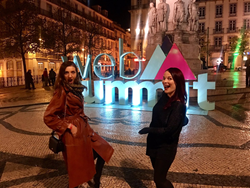 #lostinlisbon
Lisbon, Portugal (PRWEB) November 14, 2016
Turki Almadhi Ventures Inc, or #TAVIteam, was ever present from day 1 at the WebSummit held in Lisbon this past November 7-10. From private invitations to further discuss investment opportunities, to daytime office hours that introduced the team to a world of interesting and unique startups, the #TAVIteam made sure to cover all bases at all hours.
Elle Jacobs, a Senior Executive for the Turki Almadhi Ventures Inc team, was in awe with the amount of activities that were organized, and how they were able to include and integrate everyone at appropriate times: "It was nice that there wasn't such a strict divide between investors and startups. There are already so many invisible lines drawn in society that having everyone have the opportunity to rub elbows with each other was important to being able to understand where the startups are coming from, as well as learning more about what other investors are on track for."
The #TAVIteam was impressed with the social media interactions, and the way that everyone took every opportunity to pitch. There were many great ideas, and concepts, and so many great people that the Turki Almadhi Ventures Inc team is excited about what possibilities may come to fruition.
Looking ahead to 2017, The Turki Almadhi Ventures Inc fund hopes to be even more active with the WebSummit being held in Lisbon.
The Turki Almadhi Ventures Inc. fund is a privately funded corporation established in 2003 and that is based out of New York City. For media and press inquiries please contact Elle Jacobs directly at +1 646 783 0161 or through email at hello(at)turkialmadhi(dot)com. Please visit the website at http://www.turkialmadhi.com