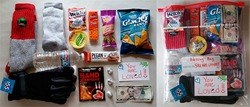 Every individual and company has the ability to infect the local community with goodness. This is the best time to be generous!
Boulder, CO (PRWEB) November 14, 2016
CreativeLab.TV, a Boulder-based tech company launched their new giving program called "Believe In Miracles", aimed at helping the homeless population this winter. Choose between a below-zero sleeping bag, thermal sleeping mat or action-packed Blessing Bag (gift-bag with thermal socks, winter gloves, hand-warmers, snacks, $5 and a love note.) It's a great way to spread love and warmth this winter!
CreativeLab.TV is also selling it's already affordable web and mobile development at discounted rates while promising a hefty donation to charities chosen by new customers. Additionally, CEO Paul Wagner is offering any company their own giving page (similar to CreativeLab.TV/Giving), allowing any size company or organization the ability to support their local, homeless communities.
CEO of CreativeLab.TV, Paul Wagner said, "There's always a way to stretch to help others. Whether it's rethinking the original budget, coordinating in-kind efforts to support someone in need or sharing information to increase a community's compassion, every one of us has the ability to infect our community with goodness."
Paul suggests "with all the chaos strewn across the US political landscape, it's time to put down our swords and put our hearts into action."
CreativeLab.TV's program helps businesses with discounted web and mobile technology rates and an exemplary giving program, helping those in need. Reach out by emailing [email protected] or visit CreativeLab.TV/Giving to learn more.