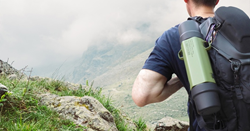 We believe our eco-friendly container has taken off in popularity because it makes life easier for so many different people and uses.
San Francisco (PRWEB) November 14, 2016
GreenTraveler has moved into elite crowdfunding territory raising more than $100k (and counting) from over 1,300 backers - becoming one of the most funded bottles in Kickstarter history.
With six isolated compartments and a liquid-tight seal in one, portable container, GreenTraveler is the most versatile way to carry food, beverages and daily items for work or play.
"We believe our eco-friendly container has taken off in popularity because it makes life easier for so many different people and uses - from carrying lunch to work, to having a tidy meal while traveling on a plane, or bringing nourishment while hiking or biking." said GreenTraveler Co-founder James Robinson.
GreenTraveler replaces leaky and messy old-school plastic food containers with one convenient solution. Its leak-proof design can separate six items in a total of 44 ounces of food and beverages. Its contours serve as a built-in dish or bowl to enjoy your meals, snacks and drinks while traveling, camping or for the daily work/lunch routine.
When closed, GreenTraveler is cylindrical, like a water bottle, so it easily clips to a bag, and it's watertight. It's also rugged for all outdoor activities.
As the name suggests, GreenTraveler is designed with the environment in mind. It can be used as a to-go container so restaurant leftovers don't end up in something disposable. It can also be used to buy food in bulk. The empty weight and volume is printed on every container for measuring portions and buying food by weight, without being charged for the container weight.
Constructed with ABS plastic, known for its technical and food-safe properties without BPA or phthalates, it's also microwave and dishwasher safe.
GreenTraveler is available on Kickstarter for a limited time with pricing that is sustainable on your pocketbook. For more information, visit the GreenTraveler Crowdfunding Campaign Page.
About Green Traveler
Founded in 2015 by James Robinson and Juliene Wintermute, who met in college as environmental engineering students, Green Traveler is focused on creating dynamic, useful and sustainable to-go ware through a design process that produces minimal to zero-waste during any of their product's production and distribution cycles. The addition of their third partner Josey Zadoria has helped to bring an idea into the marketplace. The company is committed to donating one percent of its net income to natural resource conservation funds and encourages the recycling of all its products through a return program.
For more information, visit http://www.mygreentraveler.com.