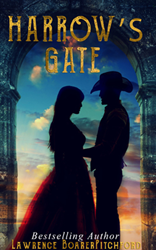 ...live another life – a life within the pages of Harrow's Gate
Sacramento, California (PRWEB) November 15, 2016
Local Sacramento indie-author Lawrence BoarerPitchford has come to market with an exciting new work of science fiction. Harrow's Gate is a tale of high adventure and young love. The author plunges us into a world on the brink of war, where dreadnoughts prowl the sea lanes, and gas-filled sky ships hunt in the sky. Yet, man is not alone on this planet - humanity struggles alongside other creatures, such as the Desert Ghosts – who are a race of beings much older than man.
In a far-off outpost along the border of the Rema desert, the Desert Ghosts ply their trade. Harrow's Gate is the place where humans and aliens meet, money exchanges hands, and trade goods flow from east to west. But, it is the mysterious and timeless arch that marks the place, and gives the town its name. It is a place where the desert begins, and the path to the impassable White Desert invites adventure.
When asked what the inspiration for the novel was, the author said, "Authors such as William Gibson, Cherie Priest, and H.G. Wells have served to give me a love of the steampunk genre. Also, authors such as Larry Niven, and Dan Simmons have delivered immersive science fiction – such that I find myself in awe of their talents. While my style of writing is different, I do my best to be as entertaining."
If you like stories that capture the feeling of being in Nineteenth Century London, with the intrigue of science fiction, and the passion of a romance novel, Harrow's Gate will be the book for you.
Lawrence was asked, "What do you hope to achieve with this novel?" His response, "I want the reader to fall deeply into this world that I've created. I want them to forget about their day, their worries, and their fears and live another life – a life within the pages of Harrow's Gate. There is a story inside for both men and women. For women, they will enjoy the strong female characters who do not take crap from anyone, and the exciting adventure that leads to a passionate and eternal love. There is also content for men, filled with wild action, where men are masculine, romantic, and in touch emotionally. I want fans to read and enjoy Harrow's Gate and get lost in the adventure."
Lawrence BoarerPitchford is the author of such works as Thadius, The Lantern of Dern Blackhammer, Sawbones, In the World of Hyboria (Book 1 Grim Determination and Book 2 The Ties that Bind), as well as the cheeky novel Tales of Mad Cows and Brothels.
Lawrence works and lives in the Sacramento region of California. His work can be found on Amazon Books, Smashwords, Barnes & Nobles, and iBooks. Take a moment to explore http://www.BoarerPitchford.com and visit the author on Facebook, Twitter, and Goodreads.