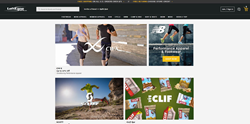 The redesigned site is already showing a 500% increase in conversion on mobile devices and over 120% increase on tablet.
San Luis Obispo, Calif. (PRWEB) November 15, 2016
LeftLane Sports has announced that it has launched a newly redesigned website (http://www.leftlanesports.com) based on customer feedback. The new site features responsive design, enhanced filtering and menu options, and a faster purchasing experience. The re-launch coincides with the company's 7 year anniversary.
"We are excited for the new site and the great enhancements that it will offer our customers across all platforms. The site was designed with a mobile-first approach, and we are already seeing large increases in conversion because of it," said Erik Fialho, COO of LeftLane Sports.
LeftLane Sports, which sells running, cycling, and outdoor gear at members-only prices has become one of the fastest growing online retailers because of its dedication to its members. By listening to feedback across all contact points, including email, phone, and surveys, LeftLane Sports continuously makes enhancements to drive conversion. The redesigned site is already showing a 500% increase in conversion on mobile devices and over 120% increase on tablet. The desktop site is also showing double digit conversion increases.
One of the key website enhancements is better sorting and filtering. Members now have the ability to sort by size, product type, gender, price, and brand across all pages and across all devices. The new design also puts an emphasis on larger product imagery. Depending on screen size, product images are now up to 54% larger. "Our merchandising team will continue to tell our brand partners' stories in compelling ways. Our emphasis will be on making products come to life via better imagery, video, description, tips, and stories," said Maggie Bartels, Chief Merchandising Officer for LeftLane Sports.
LeftLane Sports Adventure Travel packages received enhancement, as well. In May, LeftLane Sports launched active travel experiences to all 7 continents. Thus far, the adventure packages have allowed LeftLane Sports to connect with its members on a deeper level. LeftLane Sports travel is focused on creating unforgettable experiences like trekking through Nepal to rebuild villages, hiking to Mt. Everest base camp, or traveling through Patagonia or Machu Picchu. The new design makes these adventures more accessible and thus easier to travel the globe and experience iconic adventure destinations.
The redesign was done in partnership with LeftLane Sports' technology partner Auspient, a leading e-commerce provider. Auspient was instrumental in developing new technologies for the site, as well as launching within an aggressive 3 month time frame.
Media and Press Contact:
press(at)leftlanesports.com