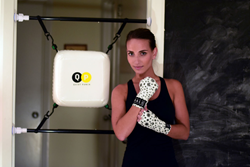 I never knew how much I would like punching until I punched something. - Sierra W.
New York, NY (PRWEB) November 15, 2016
Boxing training has become a very popular fitness trend, especially for women. In New York city alone there are boutique boxing studios such as Box + Flow, Shadowbox, Overthrow, Work Train Fight, Rumble, just to name a few. Women especially have been impressed by the workout of the classes and also the new found empowerment that comes with throwing a punch.
Brian Pedone, a NYC boxing trainer and entrepreneur, has had the pleasure of training thousands of people in boxing. He was especially surprised by the number of his clients coming in who were women. From what he saw from the trend he knew there would be a great demand for a boxing bag that could be used by someone who lived in a small space, such as a NYC apartment, and more for the fitness enthusiast. After 3 years of development from Prototype to Manufacturer, Quiet Punch was born.
Quiet Punch is currently on the market and being sold via the website. Quiet Punch is a new kind of punching bag one in which takes up little space, easy on the joints, and makes little noise as not to disturb neighbors and room mates. There are currently over 100 units out and about the United States and more and more women especially are working on their punching and sharing it with their friends.
For more information please visit http://www.QuietPunch.com