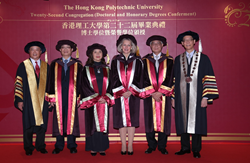 (PRWEB) November 15, 2016
The five honorary degree recipients this year include (in alphabetical order of last name):
Professor Robert F. Engle (in absentia), Nobel Laureate in Economic Sciences; Ms Candace Johnson, a serial entrepreneur and a telecom networks and infrastructure expert; Professor Ko Jan-ming, Emeritus Professor of PolyU; Ms Marjorie Yang Mun-tak, Chairman of the Esquel Group; and Professor Ye Peijian, Chief Designer of the Chinese Lunar Exploration Programme.
In extending his congratulations to the honorary doctorates and graduates, PolyU President Professor Timothy W. Tong also announced that PolyU is about to start the year-long celebrations of its 80th anniversary and reflected on the exciting journey the institution has traveled over the years. "We have transformed into a world-class university that not only embarks on research to advance the frontiers of knowledge, but also creates solutions to problems and changes the world for the better; a university that prepares our graduates to be not only successful professionals, but also socially responsible global citizens."
Reiterating the University's commitment to "Opening Minds • Shaping the Future", Professor Tong urged the graduates to bear in mind the goals of education at PolyU as they embark on the next chapter of their life. Apart from making use of their professional knowledge to develop a successful career, "they should make many positive and constructive contributions to society. This is what we expect from our graduates. This is what Hong Kong expects from you. And this is what our country and the world expect from you," he said.
The University has conferred a total of 10,827 academic honors this year, including 208 Doctor of Philosophy, 66 discipline-based Doctor's degree, 44 Master of Philosophy, 3,853 Master's degree, 5,683 Bachelor's degree, 50 postgraduate diploma and certificate, and 918 sub-degree awards.