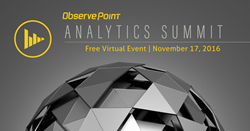 Digital marketers, analytics and IT experts are witnessing a spectacular boom of marketing technology, all of which have profound consequences on the business role of analytics.
Silicon Slopes, Utah (PRWEB) November 14, 2016
ObservePoint, innovative pioneer in the field of analytics data validation, is pleased to announce their first virtual Analytics Summit, an online event for the analytics and digital marketing community, which is to be held on November 17, 2016 from 11am - 5pm EST.
The Analytics Summit is a free, one-day virtual event that brings together digital marketing and analytics professionals from around the world to discuss strategies, tactics and best practices from the comfort and convenience of their own offices.
The event is expected to attract over 5,000 digital marketing and analytics practitioners, managers and decision-makers. More than 30 industry experts and thought leaders will be presenting strategies, tactics and best practices to help digital analytics professionals transition to thought leader roles within their organization. Keynote speakers include:

Rusty Warner, Principal Analyst at Forrester Research
Susan Vertrees, Senior Adobe Analytics Consultant at Adobe
Adam Greco, Senior Partner at Analytics Demystified
Brent Dykes, Director of Data Strategy at Domo
Krista Seiden, Analytics Advocate at Google
Additional participants include executives, partners and managers from Adobe, Google, Analytics Demystified, Tealium, DOMO, Search Discovery, Hewlett-Packard Enterprise, 33 Sticks, IQ Workforce, MarketLinc, Axis41, TMMData, Keystone Solutions, SmartCurrent, Alight Analytics, Tracking First, Riptide Analytics and LeapThree.
"Analytics is at the core of every digital process within an enterprise," said ObservePoint Vice President of Marketing,Chris Baird. "Digital marketers, analysts and IT experts are witnessing a spectacular boom of marketing technology, all of which have profound consequences on the business role of analytics. The Analytics Summit brings the brightest minds together to discuss how to be successful in their data quality and data management in this rapidly evolving landscape."
To learn more, or to register for the free, one-day event, visit the event website. Even if you cannot attend the live event, register today to access the presentations on-demand at your convenience.
About ObservePoint
ObservePoint empowers data-informed companies to trust their data and better serve their customers through the application of best practices in web tag auditing. Founded in 2007 by John Pestana and Rob Seolas, ObservePoint pioneered automated web and app analytics auditing. ObservePoint's patented WebAssurance™ and AppAssurance™ technologies audit millions of pages and mobile apps every month to report data loss, inflation and leakage to web analytics managers and stakeholders of the world's leading enterprise companies. ObservePoint's Data Quality Assurance solution ensures that customer data is accurately collected, utilized, and safeguarded, giving your organization the confidence to make better decisions based on better data.
For more information, please visit http://www.observepoint.com/.
###
Media Contact: Chelsi Linderman
ObservePoint
385-225-8458
chelsi.linderman(at)observepoint(dot)com