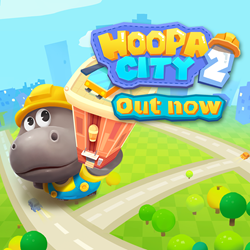 We spent a long time reading what fans loved and what suggestions they left us in the reviews
CHENGDU, China (PRWEB) November 17, 2016
Calling all mini builders. Dr. Panda launches Hoopa City 2. The sequel to beloved kids app Hoopa City offers a fun way to play, discover and build any type of city they dream up. Whether they want to create a thriving metropolis full of skyscrapers and shopping malls, or a paradise beach retreat – they can in Hoopa City 2.
Jeffrey Uppelschoten, Lead Game Designer for Hoopa City 2 said: "Fans enjoyed the first Hoopa City game so much that we started thinking about how we could further improve the play experience. We spent a long time reading what fans loved and what suggestions they left us in the reviews. This was the first step towards Hoopa City 2."
The sequel follows the same play-style as the original app but can now be enjoyed in a beautiful and fun 3D world. Through discovery, kids can unlock over 60 buildings including: homes, schools, offices, shopping malls and airports.
What's more, all these buildings can be explored on the inside as well. In Hoopa City 2, kids can unleash their inner storyteller and find hidden treasures inside the city with all of their favorite Dr. Panda characters.
Hoopa City 2 is available to download for $3.99 on the App Store, Amazon and Google Play and offers the following key features:
Create any type of city: from busy metropolises to beach retreats
Unlock over 60 buildings through discovering hidden combinations
Explore inside of buildings and find super cool secrets
Customize the cute citizens with fun outfits and play
Switch between Night and Day Mode to see the city in a whole new light
Keep track of what's been unlocked and how it was built in Hoopa's Building Book
Save over 20 cities, so players can always try something different
About Dr. Panda
Dr. Panda is an award-winning app developer that sparks imagination and creativity in kids. Dr. Panda build on kids' love of storytelling, and encourage their desire to learn about the world around them. To learn more about us, visit http://drpanda.com/ or check out our videos at http://youtube.com/drpandagames