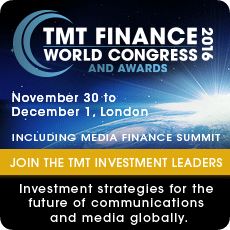 London, UK (PRWEB UK) 14 November 2016
Increasing opportunities for enhancing value through telecoms mergers and acquisitions will be assessed at the TMT Finance World Congress (http://www.tmtfinance.com/world) in London on November 30 with a series of expert panels and keynotes.
"Convergence and consolidation are evident across the TMT industries. It's an especially exciting time for M&A in the sector with a number of factors driving deals and new investment," said Iain Fenn, Partner at Linklaters, who will be chairing the TMT M&A Panel at the TMT Finance World Congress.
Telecom, media and technology M&A volumes have surged in 2016 and are predicted to continue to grow in 2017 as convergence, consolidation and buoyant debt markets drive acquisitions in the industry globally. Key industry, finance and advisory leaders are meeting at the TMT Finance World Congress to assess the next wave of opportunities for growth, and potential obstacles.
"This is a really critical time for operators with a regulatory environment that continues to evolve. The recent completion of the merger of Three and Wind in Italy demonstrated that the European Commission will look at every deal individually and there is still space for major consolidation moves if operators can offer the right remedies", Iain Fenn added.
With deal-making also predicted to increase in key markets across Asia and MEA all eyes will also be on the widely anticipated TMT M&A Panel, which also features Timothy Knowles, Head of M&A, Etisalat Group; Saj Vakilian, Managing Director, M&A and Corporate Development, Liberty Global; Clif Marriott, Managing Director, Goldman Sachs; Jonathan Zelmanovitch, Deputy Head of M&A, VimpelCom; David Wheeler, Chairman, EMEA Media & Telecoms Group, Credit Suisse.
Over 100 speakers and 350 delegates are expected at this year's event which has been expanded to two days to meet the demand for cross sector investment and consolidation in telecom, media and tech industry globally.
Awards for Telecom Infrastructure Deal of the Year, as well as Telecom, Media and Tech Deals, TMT M&A Adviser and Global Growth and TMT Leadership will be presented at the annual Awards Dinner following the first day of the Congress.
C-level executives announced as speakers so far include representatives from: Liberty Global, VimpelCom, Iliad, Altice, Axiata, Etisalat, Vodafone, Telia, Tele2, Safaricom, Channel 4, RTL Group, KPN, PTCL, EE, Six Degrees, KKR, BNP Paribas, Societe Generale, Next Generation Data, O3B Networks, IXcellerate Moscow Datacentre, CityFibre, IFC, ABRY Partners, Accenture Consulting, EY, Ashurst, Herbert Smith Freehills, Enet, Goldman Sachs, Nomura, UBS, Citi, ING, IFC and the World Bank.
For more information, go to http://www.tmtfinance.com/world/