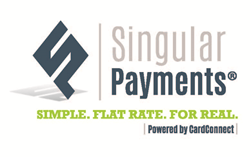 The joint effort between Singular Payments and CardConnect is something we're really excited about
Saint Augustine, FL (PRWEB) November 15, 2016
Singular Payments, LLC., one of the very few payment processors in the industry focused on true custom flat rate credit card processing is excited to announce the progression of its strategic alliance with CardConnect (NASDAQ: CCN). With the days of dial-up almost behind us, CardConnect has pioneered the latest generation of point-to-point encryption (P2PE) terminals, which Singular Payments' customers can now access free for the life of their merchant relationship. And beginning January 2017, Singular Payments will leverage CardConnect's team of skilled, payments experts as its dedicated support team provides Singular customers with direct access to CardConnect's customer service and technical support.
Based in King of Prussia, Pennsylvania, CardConnect's advanced payments suite boasts two proprietary solutions: the CardPointe Payments Platform and CardSecure®. CardPointe allows Singular Payments' customers to accept payments, manage transactions, create bill plans, build receipts and more. CardSecure embodies the measures that CardConnect has taken to assure the highest level of security available in the payments industry through a combination of patented P2PE and tokenization.
Singular and CardConnect's partnership brings patented security measures to a new world of merchants that significantly reduces the challenges businesses encounter with PCI compliance for card-present and card-not-present transactions. Only P2PE certified vendors like CardConnect can deliver this unparalleled level of payment security. According to Angelo Grecco, EVP at CardConnect, "The joint effort between Singular Payments and CardConnect is something we're really excited about. It's important to us that we bring secure payments to a variety of merchant-types, and we can do that with Singular's already impressive client-base."
About Singular Payments, LLC
Based in sunny Saint Augustine, FL Singular Payments, LLC is a sales and marketing company serving the payment processing industry with a revolutionary limitless flat rate billing model that simplifies accepting credit/debit cards for small to medium-size merchants nationwide. Call (877) 829-7256 for a free savings analysis or visit us online at http://www.singularpayments.com to learn more.
About CardConnect
CardConnect (NASDAQ: CCN) is a leading provider of payment processing and technology solutions, helping more than 65,000 organizations – from independent coffee shops to iconic global brands – accept billions of dollars in card transactions each year. Since its inception in 2006, CardConnect has developed advanced payment solutions backed by patented, PCI-certified point-to-point encryption (P2PE) and tokenization. The company's small-to-midsize business offering, CardPointe, is a comprehensive platform that includes a powerful reporting and transaction management portal which extends to a native mobile app. For enterprise-level organizations, CardSecure integrates omni-channel payment acceptance into several ERP systems – such as Oracle, SAP, JD Edwards and Infor M3 – in a way that minimizes PCI compliance requirements and lowers transaction costs.
###