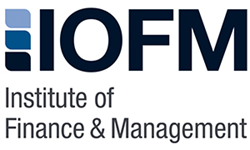 The opportunity for these professionals to connect with one another and share their ideas, concerns and best practices doesn't come around often
Portland, ME (PRWEB) November 15, 2016
The Institute of Finance & Management (IOFM) has announced the dates and locations for its three trademark events: Accounts Payable & Procure-to-Pay Conference & Expo Spring; Accounts Payable & Procure-to-Pay Conference & Expo Fall; and the Accounts Receivable & Order-to-Cash Conference.
The Spring Accounts Payable & Procure-to-Pay Conference & Expo will take place on May 7-9, 2017 at Disney's Yacht & Beach Club Resorts®, Lake Buena Vista, Florida. The event is expected to draw over 600 attendees who work in an Accounts Payable, Procure-to-Pay, or Shared Service capacity. The event's exhibit hall will feature sponsors and exhibitors representing 65+ leading automation solutions. Spanned over three days, attendees will attend educational sessions and panel discussions designed to educate practitioners about best practices in the field, new technologies, and changes in tax law compliance. Attendees will also have multiple networking opportunities with other practitioners and solution providers. IOFM will host live certification classes and workshops directly before and after the event for an additional fee. To learn more about the event or to register, visit iofm.com/conference-spring.
The Accounts Receivable & Order-to-Cash Conference will immediately follow the Spring event on May 10-12, 2017, also at Disney's Yacht & Beach Club Resorts®. The event's 2nd annual edition will accommodate over 150 Accounts Receivable, Credit and Collections, and Order-to-Cash professionals of all job levels for three days of educational sessions on best practices, strategies & leadership, credit & collections, and automation case studies. Over 20 companies are expected to exhibit on the expo floor. Accounts Receivable and Order-to-Cash certification classes will be offered immediately preceding the conference; a selection of workshops will also be available concurrently. For more information or to register, visit iofm.com/ar-conference.
IOFM's final event for 2017 will be the Fall Accounts Payable & Procure-to-Pay Conference & Expo, taking place November 12-14 at the Bellagio Resort & Casino, Las Vegas. The fall event will host over 600 Accounts Payable, Procurement, Procure-to-Pay, and Shared Service professionals. The conference agenda will feature content divided into 8 concurrent tracks; roundtable discussions; panels; live certification & workshops; and multiple opportunities to network with attendees and over 65 exhibiting automation solution companies. Visit iofm.com/conference-fall for additional details.
"These three events are the cornerstone of our financial operations community," said Brian Cuthbert, Executive Director of IOFM. "The opportunity for these professionals to connect with one another and share their ideas, concerns and best practices doesn't come around often. The goal is to foster upward mobility, modernization, and networking in a profession that never gets the recognition it deserves."
Full agendas are available for both May events, accessible at iofm.com. Registration is currently open, with the earliest pricing deadline expiring on December 31, 2016. Early registration for the fall 2017 conference is also now open.
ABOUT IOFM
The Institute of Finance and Management (IOFM) is the leading organization providing training, education and certification programs specifically for professionals in Accounts Payable, Procure-to-Pay, Accounts Receivable and Order-to-Cash, as well as key tax and compliance resources for Global and Shared Services professionals, Controllers and their F&A teams.
IOFM has certified nearly 20,000 financial operations professionals worldwide through its four certification programs. These programs include Accredited Payables Specialist or Manager (U.S. and Canadian specific versions available), Accredited Receivables Specialist or Manager and Certified Professional Controller. The globally recognized AP & AR certifications are available in English, Simple Chinese and Spanish.
IOFM's membership networks, the AP & P2P Network (http://www.app2p.com) and AR & O2C Network (http://www.tarn.com), feature industry research and best practices, metrics and benchmarking data, policies, case studies, tools, templates, and critical compliance and corporate governance resources. The Institute also produces on-demand e-learning resources including video trainings and web-based seminars.
IOFM hosts industry-leading conferences designed to facilitate continuing education and peer networking. These events include the Accounts Payable and Procure-to-Pay Conference and Expo (Spring and Fall), and the Accounts Receivable & Order-to-Cash Conference.
With a universe of over 100,000 financial operations professionals, growing certification and membership programs, and a keen understanding of the issues and content needs critical to the profession, IOFM is the trusted source of information in the rapidly evolving field of financial operations.