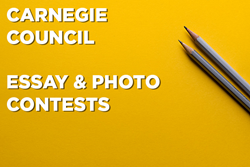 This year's contests are on nationalism and on cities/urbanization. We look forward to your essays and photos.
(PRWEB) November 15, 2016
Carnegie Council for Ethics in International Affairs is pleased to announce its two annual international contests: an essay contest for teachers and students on nationalism, and a photo contest for students on cities/urbanization.
Whether contestants choose to express themselves in words or in photos, the Council is looking for thoughtfulness, originality, and vision.
The deadline for both contests is December 31, 2016. Prizes are Amazon Gift Certificates and the winning entries will be posted on Carnegie Council's website.
International Student/Teacher Essay Contest: Nationalism
Is nationalism an asset or hindrance in today's globalized world? Nationalism as used here is a broad term and can be viewed in terms of patriotism, economic nationalism, national identity that holds a diverse country together, nativism, or any other logical way contestants think fit, as long as they define it clearly. All teachers, at whatever level, are eligible. All students, from high school students through graduate students, are eligible. Collaborative essays between students and teachers are welcome. Word limit:1,000-1,500 words.
International Student Photo Contest: Cities/Urbanization
Across the world, there is an ongoing mass migration from the countryside to the cities. Please submit photos that depict urbanization and city life, showing either the advantages or the drawbacks. All students of every nationality are eligible. Non-students will be disqualified. The minimum age is 13.
ABOUT CARNEGIE COUNCIL
Founded by Andrew Carnegie in 1914, Carnegie Council for Ethics in International Affairs is an educational, nonprofit, nonpartisan organization that produces lectures, publications, and multimedia materials on the ethical challenges of living in a globalized world. Go to http://www.carnegiecouncil.org.