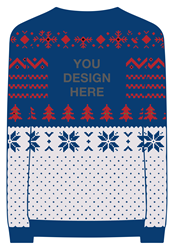 "Customers have provided feedback that they love our product styles and selections, but wanted the option to design their own sweaters. So we listened, researched and invested in the technology to allow them to do just that."
Commerce Twp., Mich. (PRWEB) November 14, 2016
UglyChristmasSweater.com, a Michigan-based online retailer specializing in seasonal trendy ugly Christmas sweaters, today launched a new app via its website that will allow customers to customize, design and purchase their own unique ugly Christmas sweater.
Beginning today, customers can head to http://www.uglychristmassweater.com/customize and click on the Ugly Christmas Sweater customizer link via the homepage and go through an easy step-by-step process of creating your own custom knitted sweater. Once complete, the website will enable the customer to view a mock-up of the finished product before finalizing the purchase.
"We are excited to take the customization of the Ugly Christmas Sweater that is fully knitted to another level," said Fred Hajjar, UglyChristmasSweater.com founder. "Customers have provided feedback that they love our product styles and selections, but wanted the option to design their own sweaters. So we listened, researched and invested in the technology to allow them to do just that."
The new service offering can be used for a single sweater or up to 500 for the whole family, team or company. Custom sweaters will start at $99.99 for just one unique sweater with volume discounts on 10 or more sweaters. Customers who create their designs and order online will receive their sweaters in 10 business days and are guaranteed design and delivery of their apparel in time for the party and holiday gift giving season.
For more information, please visit, http://www.Uglychristmassweater.com/customize.
About UglyChristmasSweater.com
Founded in 2012, UglyChristmasSweater.com now offers numerous products to choose from, including shirts, sweaters, jackets, leggings and shoes. The wide range of inventory makes them a leading provider for holiday tackiness. Sizes range from small to XXXL in most apparel styles, with product prices ranging from $19.99 to $60. For more information or to shop online, visit http://www.uglychristmassweater.com.