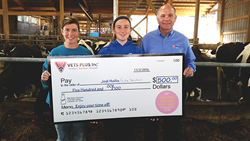 Menomonie, Wis. (PRWEB) November 15, 2016
Vets Plus, Inc. is pleased to announce the winner of the "Milk Your Cow For a Day" promotion from this year's World Dairy Expo. Jo-Eng Farms in German Valley, Illinois won the $500 prize.
Gary and Sally Engbert, Jodi and Todd Hollis, operate Jo-Eng Dairy Farms Inc., a 600 dairy cow operation.
Steve Vale, Vice President of Sales with Vets Plus, traveled to Jo-Eng Farms to present the award. He commented, "It was exciting to see the expansion which has taken place on this family farm over the past 108 years; the future looks bright. Congratulations to Jo-Eng Farms!"