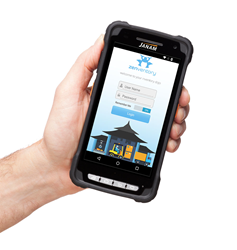 The Janam XT2 is the perfect companion for Zenventory users to manage their inventory on the go.
Phoenix, AZ (PRWEB) November 15, 2016
Ubiquia and Zenventory are proud to announce the availability of the Janam Technologies flagship rugged handheld device, the Janam XT2. The XT2 runs a streamlined commercial version of Google Android, making it the ideal platform for the Zenventory mobile app and another great tool for the inventory management and order fulfillment needs of eCommerce businesses. The XT2 is equipped with an 8MP rear camera and an integrated 2D linear imager for barcode scanning from up to two feet away. With a rugged exterior and a 5" HD Gorilla Glass 3 screen, it is the perfect companion to Zenventory for managing warehouse inventory on the go.
Zenventory is the perfect online inventory management solution for small and medium sized businesses from eCommerce to 3PL and fulfillment companies. Conduct inventory cycle counts without closing down your warehouse, claim orders for accurate picking, receive shipments with the mobile app, and manage multiple warehouses all with one flexible online software. With an attractive price point, secure cloud architecture, and easy to use interface, Zenventory is the perfect solution for any small business looking for simple inventory control and mobile inventory software. Schedule your personalized demo today and get started discovering the zen of inventory management.
To learn more about Zenventory and the Janam XT2, please visit http://www.zenventory.com/janam-xt2/ or call us toll-free at 1-800-268-6296.