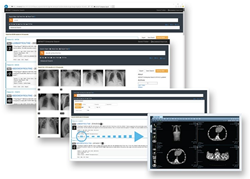 Phillipsburg, NJ. (PRWEB) November 15, 2016
INFINITT North America, an award-winning developer of image and information management technologies for healthcare, will highlight the newest features in INFINITT PACS and INFINITT Healthcare Platform, a standards-based Vendor Neutral Archiving (VNA) solution, at this year's RSNA. The 102nd Annual Meeting of the RSNA will again take place in Chicago, IL, November 27- 30, 2016.
INFINITT will also be featuring an exciting new Enterprise Search capability that allows the user to search cases in the PACS and EMR, and integration with the Lab or HIS will enable the user to search Pathology results as well.
The user performs searches through a Google-like, web-based query interface, using multiple words, phrases and partial words with a wild card, and can specify a close or exact phrase match. Database fields, including modality, body part, gender and date range with and/or operators can be used to narrow the search.
The search function locates studies based on text in the radiology report, displaying results in a list or grid format, or in thumbnail mode. The entire results –or a selected portion of the search results-- can easily be exported to an Excel spreadsheet or to a named folder.
Advanced Search and Tagging features will be added in Q2 2017. These capabilities will be especially helpful when searching for radiologic examinations for teaching, education, and research purposes.
About INFINITT North America
INFINITT North America is a wholly-owned subsidiary of INFINITT Healthcare, a global company with more than 4000 PACS installations worldwide. Infinitt's web-based enterprise imaging solutions include RIS, PACS, Cardiology Suite, Mammo PACS, Dental PACS and 3D/Advanced Visualization software, all running on a single database platform. INFINITT PACS ranked #1 Category Leader in 2015/2016 Best in KLAS Awards: Software and Services for both Community Hospital and Ambulatory categories. For more information, call 877-387-6960 or visit http://www.infinittna.com.
2015/2016 Best in KLAS Awards: Software and Services ©2016 KLAS Enterprises, LLC. All rights reserved.