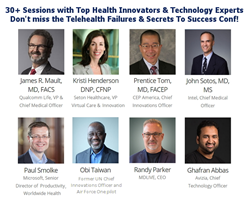 With all the hype surrounding telehealth, we're dancing around the one problem that really matters: how to increase user adoption.
Sunnyvale, CA (PRWEB) November 23, 2016
As many as 158 million video consultations are predicted to be conducted by the year 2020 with a market size of $34 billion. Yet, many of the world's leading telehealth companies are struggling with telemedicine adoption. The Telehealth Failures & Secrets To Success (#TFSS) conference brings together nationally recognized health innovators, thinkers, and many of the largest tech companies — Microsoft, Intel, Dell, Qualcomm, Avizia, DaVita, Seton, MDLIVE and others — with the goal of examining the failures of telehealth and discovering how to become successful businesses. Attendees will gain practical insights into telehealth profitability, execution strategies, and user adoption. This three-day executive event will be held on December 2-4, 2016 at Four Points by Sheraton in San Jose, CA: vsee.com/telehealth-failures-conference
Dr. Milton Chen, VSee CEO says, "Doctors regularly hold morbidity and mortality conferences to learn from their mistakes and to improve patient care. That's what we want to do for telemedicine and telehealth at this event. Everyone knows that telehealth has the incredible potential to improve healthcare accessibility and delivery, but the problem is in the 'How?' With all the hype surrounding telehealth, we're dancing around the one problem that really matters: how to increase user adoption. We want all our attendees to leave with knowledge that will help us as an entire industry fulfill our market potential."
Opening keynotes will be delivered by James R. Mault, Vice President & Chief Medical Officer at Qualcomm Life and John Sotos, Chief Medical Officer, Strategic Sales Division at Intel.
Speakers include:
James Mault, MD, FACS - Qualcomm Life, VP and Chief Medical Officer
John Sotos, MD, MS - Chief Medical Officer, Intel
Paul Smolke - Senior Director of Productivity, Worldwide Health, Microsoft
Mohana Amirtharajah, MD - Surgical Advisor, Doctors without Borders
Robin Wiener - President & CEO, Get Real Health
Dr. Obi Taiwan - President of Global Technologies, DaVincian, Senior Technology Advisor, UN
Laurence Girard - Founder & CEO Fruit Street
Kristi Henderson, DNP, Vice President for Telehealth & Innovation, Seton Healthcare Family
Shiv Ramamurthi - Director of Healthcare & Emerging Technologies, ARM
Randy Parker - Founder & CEO, MDLIVE
Prentice Tom, MD, FACEP - Chief Innovations Officer, CEP America
Ghafran Abbas - Chief Technology Officer, Avizia
Manuela Robinson - Senior Director Mobile Community of Excellence, DaVita
James Hammond - Telehealth, Dell Healthcare
Myles Druckman, MD - Senior VP & Regional Medical Director International SOS
Stephen Sullivan, MPH, Project Nexus, University of Michigan
Dave Wang - CEO, Striiv
Robert Kaul - CEO, Cloud DX
Michael Kirchhoff, MD - Director of Emergent & Urgent Services, Cooper Hospital
Andrew Gomory - CEO, Lingraphica
K. Michael Rodriguez - VP Board of Directors, practice owner - Fairfax Family Practice
Lisa Alderson - President & CEO, Genome Medical
Douglas Shinsato - Co-founder & CEO, Anthill Ventures Technology Incubator
Seating is limited for the 2016 Telehealth Failures & Secrets To Success conference, and registration will be sold on a first-come, first-serve basis. To register, visit http://vsee.com/telehealth-failures-conference.
VSee is the exclusive video + telehealth system used by astronauts on the International Space Station. Customers include Shell, Trinity, McKesson, DaVita, and Seton/Ascension. Created by a team of Stanford University PhD students, VSee is committed to helping patients and providers connect online - from workflows to medical device integration to simple, secure health communications. VSee is a trusted technology partner for any telehealth program. VSee.com
The TeleMental Health Institute, Inc. (TMHI) specializes in behavioral telehealth startup consultation, professional training and staffing. TMHI is dedicated to providing support for planning, launching and thriving with telepsychiatry, telepsychology, distance counseling, online therapy, and behavioral telehealth and mhealth. TMHI's team of experienced consultants can help with reimbursement, technology choices, legal and ethical risk management and staff development/placement. http://telehealth.org/contact
Questions & inquiries? Contact Anne, Communications Director at 626-513-1824, sales(at)vsee(dot)com.