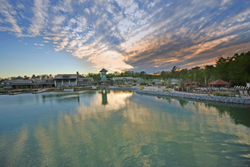 Hampton Lake is a successfully selling community, and one many of our own clients have chosen to purchase in, because it appeals to a wide range of buyers and hits on many cylinders of what today's real estate buyer is looking for.
Libertyville, IL (PRWEB) November 15, 2016
Marian Schaffer, Principal and Founder of Southeast Discovery, a real estate consulting firm specializing in guiding Baby Boomers with their real estate needs in the niche markets of retirement relocation and second homes in the Southeast region, recently shared 10 reasons to consider the South Carolina lakefront master-planned community of Hampton Lake located near Hilton Head Island, SC and Savannah, GA, for retirement, relocation or second home purchase.
"Hampton Lake has been a successfully selling community in general, as well as one that many of our own clients have chosen to purchase in, because it's a community that appeals to a wide range of buyers and hits on many cylinders of what today's real estate purchaser is looking for," said Schaffer.
According to Schaffer, these ten qualities make Hampton Lake a strong choice for those seeking a relaxed lakefront community in a Lowcountry setting near beaches and historic Southern towns:
#1: Voted Best Facilities and Best Community in the U.S. by the BALA Awards (Best American Living Awards) in 2007 and 2008
In 2007, Hampton Lake won the "Best Facility" BALA award for its Amenity Village which includes the 165-acre lake, The Lake House, The Boat House, Backwater Bill's Restaurant, resort-style pool with lazy river, children's playground with splash pad, Har-Tru tennis courts, Outpost Campground, state-of-the-art 13,000 SF fitness facility, and full-service spa.
In 2008, Hampton Lake won "Best Community in the U.S.," the crown jewel of the BALA awards, presented annually at the National Association of Home Builders conference. The 165-acre centerpiece lake gives residents the option to boat, kayak or canoe to the community's Amenity Village and other waterfront homes.
#2: Hampton Lake has been one of the top selling communities in the coastal Carolinas since its inception in 2006.
Selling over 900 properties since 2006, Hampton Lake has now opened up Phase III which includes over 100 new home sites to build on. To date, the Hampton Lake community has over 600 homes built, with close to 100 new homes either under construction or in process with the design review board's approval.
#3: Great location and convenient living near modern conveniences
Hampton Lake is located in Bluffton, SC, about 15 minutes west of Hilton Head Island. "Bluffton, SC frequently appears on many 'best of' places to live and retire to, including a recent article in Forbes Magazine, which pointed out Bluffton's scenic waters, warm climate, good state income tax environment, average home price of $197,000, walkability and low crime among the pros of living here," said Schaffer. "There's also a brand new high school in Bluffton, for those relocating here with high-school age children. And the charming and historic towns of Savannah, GA and Beaufort, SC are each just 30 minutes away."
#4: Wide variety of home styles, sizes and pricing, appealing to many buyers
"At Hampton Lake, there are homes for all stages of life, in prices ranging from the upper $300's to over $1M. There are Carriage Homes, Cottage Homes, Villas, and Coach Homes, all the way to Estate Homes," said Schaffer. "This has made Hampton Lake a very popular community as the development appeals to a wide range of buyers and their stages of life."
#5: A socially active, welcoming community
"People have come from all over the U.S. to live at Hampton Lake. This is a very inclusive community where new residents are welcomed and there are so many social activities, with new ones forming all the time, to get involved with," said Schaffer. "Monthly events include Meet Your Neighbors, a monthly lecture series, and sunset boat cruises; annual events include a Chili Cook-Off, Super Bowl party; the Blues, Brews & BBQ event; Mardi Gras Jazz Brunch; and the Christmas Boat Parade, to name just a few of the many annual events. Member clubs include the Fishing Club, Golf Club, Canoe and Kayak Club, Billiards Club, Camera Club, and more. There are also book clubs, art groups, the dinner group, movie-goers group, the bridge group, the lunch bunch, and so much more."
#6: Dog and pet friendly
"Hampton Lake has one of the best dog parks we have seen," said Schaffer. "It features a section for small dogs as well as larger dogs. The Hampton Lake dog park is known as the water cooler of the neighborhood, where many start their day with their furry friends and their owners."
#7: Reasonable HOA Fees
The Hampton Lake dues structure is very reasonable at just under $3,500 a year, despite the abundant and award-winning amenities provided.
#8: No golf course
"The fact that there is no golf course at Hampton Lake is actually a plus to many," said Schaffer. "If you don't golf, you're not paying for an amenity you're not using. This community very wisely took the land that was parceled for a Pete Dye golf course and turned it into a 165-acre lake, because they wanted to provide an amenity for everyone in the community to enjoy, and to offer lakefront properties that so many desire to own."
Schaffer pointed out that Hampton Lake is one of the first fresh water lake communities in the Lowcountry. "Having a lake rather than a golf course helps keeps HOA fees down as maintaining a lake is a lot less expensive than maintaining a golf course. And for golfers, there's a Pete Dye golf course next door at the sister community, Hampton Hall, as well as many other golf courses around the Bluffton area that are accessible to the public and offer a great golf experience, for an affordable price."
#9: Airport 30 minutes from the gate
Savannah International Airport (SAV) is just 30 minutes from Hampton Lake and offers 45 non-stop daily departures from a selection of five airlines.
#10: Quality medical care nearby
Residents of Hampton Lake and the Bluffton area enjoy quality medical care in several directions. Beaufort Memorial Hospital, the largest medical facility between Savannah, GA, and Charleston, S.C. is 35 minutes north, and offers Orthopedics, Cancer Care, Primary Care, Birthing Center, Emergency and other services. Savannah Memorial Hospital, a regional hospital and referral center for cancer care, trauma, rehabilitation, high-risk obstetrics, neonatology, pediatrics and cardiac care, is 30 minutes south. St. Joseph's Candler Hospital is also 30 minutes south of Bluffton, and offers multiple surgical services, clinical services and imaging services. Hilton Head Island Hospital is 20 minutes east and offers a wide range of services through their Breast Health Center, Heart and Vascular Center, Orthopedic Center, Spine Center and more.
If you're considering relocating to the Southeast but don't know how or where to start your search, we can help. We've been working with clients to find the right area and community to call home in the Southeast for over a decade. Feel free to complete our complimentary online questionnaire here to get feedback on the best areas and specific communities that may be just right for you.
About Southeast Discovery
Since 2004, Southeast Discovery has been a trusted resource for candid information and insight on communities, developments, and general real estate in the Southeast. Through its highly-ranked web portal, newsletter and blog and its one-on-one work with clients, Southeast Discovery helps buyers actively looking for a retirement or second home in the Southeast navigate the process of identifying the right area and community for their needs. To learn more, visit http://www.southeastdiscovery.com/