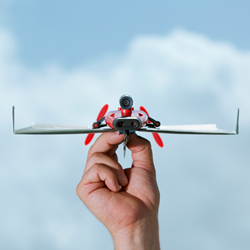 POWERUP FPV lets you experience flight as if you were sitting in the cockpit of your very own handmade paper airplane
Tel Aviv (PRWEB) November 15, 2016
Today, POWERUP launched POWERUP FPV, the first ever paper airplane drone with a live-streaming camera. The complete FPV kit is now available on the company's website, Amazon and Target for just $199.99.
"POWERUP FPV lets you experience flight as if you were sitting in the cockpit of your very own handmade paper airplane," said CEO and Founder Shai Goitein. "Wearing your smartphone with a head mounted display, you see what your plane sees, controlling your paper drone with the intuitive movements of your head."
POWERUP FPV is powered by Parrot streaming technology and is the third product in POWERUP's core collection, successor to Amazon best-seller POWERUP 3.0.
"FPV's iconic paper airplane design is nostalgic, with a high tech twist." continued Goitein. "We wanted to inspire people, young and old, to use technology to find joy in simple things. You can even get creative and create your own wing designs."
Features:

GamePad and first person view control modes (Google Cardboard VR viewer included)
10 minutes flight per charge
Travels up to 20mph
Over 300 ft WiFi streaming range
Autopilot stabilization for easy flying especially in windy conditions
Video and audio recording and streaming; Easy media download
Wide angle rotating camera providing front, side and rear camera view
Extremely durable carbon fiber polypropylene frame
Automatic takeoff and crash detection
Endless airplane design possibilities
Airplane gross weight: 2.8 oz/80 grams
Does not require FAA registration
Compatible with iOS and Android
FPV's retail launch follows on the success of its 2015 Kickstarter. On the anniversary of their campaign launch, POWERUP is delivering on their promise to backers and bringing their product to market.
POWERUP FPV has been named a CES 2017 Best of Innovation Awards Honoree for Drones and Unmanned Systems. Products entered in this prestigious program are judged by a preeminent panel of independent industrial designers, independent engineers and members of the trade media to honor outstanding design and engineering in cutting edge consumer electronics products across 28 product categories. POWERUP FPV will be displayed at CES 2017, which runs January 5-8, 2017, in Las Vegas, Nevada.
About POWERUP
POWERUP lets consumers of all ages expand their sense of play and experimentation by adding power to familiar paper airplanes. POWERUP brings homemade paper toys into the future by adding next generation mobile controls, propulsion and tools to take imagination to new heights. Experience the joy of making your ideas take flight in just a few minutes!
Media wishing to interview POWERUP personnel should contact PR agent, Jackson Wightman at +1 (514) 605-9255. Press kit can be accessed here.