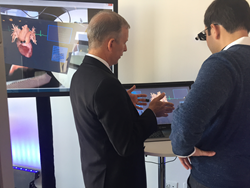 People who come to our Imagination Labs always leave with a glimpse of the future, what's possible now, and how to dazzle their audiences.
Boca Raton, Florida (PRWEB) November 15, 2016
For business professionals looking for the latest in creative marketing solutions and technology trends, Multi Image Group (MIG), a family-owned corporate event production company, is hosting their newly-designed Imagination Lab on Thursday, December 8th, 2016 at MIG headquarters in Boca Raton, FL. While only a limited number of companies have the opportunity to attend, all confirmed attendees are welcomed at no cost. Request a meeting time here before space fills up.
The Boca Raton MIG Imagination Lab will give confirmed guests an exclusive, hands-on look at some of the creative breakthrough strategies and technologies that are revitalizing and transforming corporate events, tradeshows, and experiential activations for brands worldwide. From live examples of Virtual Reality and Augmented Reality solutions, non-linear presentation software, 3D display solutions, and multi-sensory experience activators — MIG will share how organizations are maximizing these technological advancements to deepen connections between brands and audiences.
"We believe companies are hungry for fresh, attention-grabbing ideas, and experiences that will make a lasting, positive impression on target audiences," said Robert Sclafani, Co-owner at MIG. "The I-Lab is an opportunity to share custom innovative ideas and cutting-edge tools and technologies that can be used to make the transformational impact that brands are looking for."
Barry Ross Rinehart, Executive Creative Director at MIG shares feedback from past I-Lab attendees, "Recent guests of MIG Imagination Labs in NY and San Francisco express how grateful and refreshing it was to witness a glimpse of the future, what's possible now, and walked away feeling several steps ahead of competitors on how to creatively reach target audiences."
Multi Image Group has been a long-time adopter and developer of groundbreaking and emerging presentation and communication tools, frequently traveling the world to seek out innovators who are stretching the boundaries of what's possible.
Thursday, December 8th is just around the corner. With only a limited amount of time slots available for private presentations, time is running out. For those interested in attending the MIG Imagination Lab, please request a presentation time by contacting Multi Image Group at marketing(at)mig.cc.