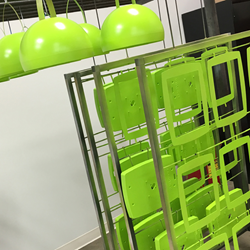 The investment and implementation of a phosphate based cleaning system provides us with increased throughput to accommodate the growing demand for our award-winning products
Waterloo, ON (PRWEB) November 16, 2016
After adding a complete in-house wet paint booth to provide enhanced product finish quality and enhanced turn-around times for their tablet enclosures, stands and kiosks, Armodilo has now added a cleaning system to handle raw part cleaning before paint and finishing.
"The investment and implementation of a phosphate based cleaning system provides us with increased throughput to accommodate the growing demand for our award-winning products", states Iles Guran – Founder and Creative Director. "The tank based dip system provides a highly repeatable cleaning process that not only cleans our parts for paint quicker and easier but also treats them for better paint adhesion", adds Guran.
The addition of this cleaning system allows Armodilo Display Solutions to increase product throughput by four times the original anticipated volume, helping to meet the high demand for the various products including the Original, Xero™, Aura and soon to be announced Keyo™ line of tablet enclosures and kiosks.
Visit http://www.armodilo.com for more information.
About Armodilo Display Solutions
Armodilo Display Solutions is a multiple award-winning tablet display manufacturer located in Ontario, Canada. With a variety of tablet display stands and accessories for trade show, event, retail and corporate markets, Armodilo sets itself apart by creating highly refined products for discerning brands around the world.
For more information about Armodilo, contact:
Iles Guran Founder & President
Armodilo Display Solutions
1-800-975-5946