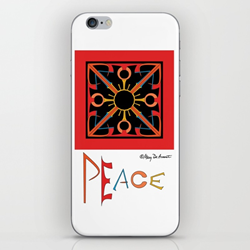 Give me a word, I will make a design!
Sarasota, FL (PRWEB) November 22, 2016
In the spirit of Scarves by Mary DeArment brand message, "Empowering women one scarf at a time," the brand message for Mary DeArment Word Art is "Encouraging imagination one design at a time." The socially conscious designer explains, "Engagement, conversation and interaction are necessary for social and personal change. My word designs are engaging because they make the viewer think, trying to solve the puzzle and find the word. They require imagination and invite conversation, not only about the design but also about the embedded word."
In addition to her nonprofit collaborations, most notably the National Women's History Museum, Mary DeArment has found a synchronicity with Society6, an international community of creatives, selling original works made into premium consumer goods.They produce and fulfill orders and every purchase pays an artist. Society6 says in their About Us blurb, "Join us in empowering independent artists worldwide."
Mary DeArment's Society6 Collections are generally named for the word or phrase hidden in the designs. Collections include GENDER EQUALITY, PEACE, THINK, HOPE, THANKSGIVING, COURAGE OF HER CONVICTIONS, and HOME SWEET HOME. The word-art graphic designs are available as art, home goods, tech accessories and apparel. DeArment explains the appeal of the Society6 products: "I like the idea of wrapping yourself in PEACE (see leggings) or filling your home with HOPE or stating on your phone case that you believe in GENDER EQUALITY. These choices can be subtle by opting for the repeat pattern where the word is truly hidden, or the mandala with word where the designs elements are pulled out and arranged conventionally to allow the word to be read left to right."
Mary is a prolific artist with hundreds of designs in the pipeline. In addition to her own inspiration including WORLD CITIZEN as a response to the Syrian refugee crisis and PEACE as a response to terrorism, DeArment welcomes the opportunity to work with organizations, nonprofits and influencers committed to making the world a better place. "Give me a word or phrase and I will make a design!" In this season of social upheaval and pressing global issues, strong words, gentle reminders and cleverly provocative phrases are helpful to further dialogue and engage the minds of citizens.