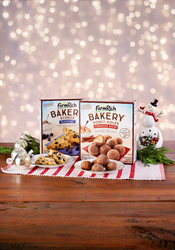 ST. SIMONS ISLAND, Ga (PRWEB) November 16, 2016
"Where there's a whisk, there's a way!" This holiday season, Farm Rich is baking up a whole new line of premium breakfast and snack items as part of its Farm Rich Bakery introduction. The new products, from one of the nation's largest frozen snacks and appetizers lines, includes Egg, Sausage & Cheese Pull Aparts, Donut Holes, protein-packed French Toast Sticks and Scones.
With this new product line, Farm Rich Bakery is here to make the day just a little sweeter with baked-good snacks ready in minutes, right from the freezer, any time of day.
The New Farm Rich Bakery Line:

Egg, Sausage & Cheese Pull Aparts – Filled with 15 grams of protein per serving, this baked bread is loaded with great-tasting ingredients and perfect for those on-the-go mornings for busy folks and families. Kids will love breaking off the bite-sized pieces.
Donut Holes – Say "no" to long drive-thru lines on the way to work or play. Pop these in the oven for a warm donut snack or breakfast – in Cinnamon Sugar and Chocolate with Vanilla Glaze varieties.
Scones – As one of the first ready-to-eat frozen scone products available nationwide, the new Blueberry Scones are ready to bake and promise a flavorful delight in every bite.
Premium French Toast Sticks – Farm Rich invented the French Toast Stick, and this popular breakfast item remains one of the brand's best-selling products today. The new premium product has real cinnamon and each serving is loaded with 10 grams of protein, guaranteed to provide long-lasting energy throughout the day.
Priced from $3.99 to $4.99 (prices may vary by store), Farm Rich Bakery products are available in the freezer section of select grocery stores nationwide. For product and store information, visit farmrich.com.
"Breakfast products continue to expand in supermarkets nationwide, with more and more consumers enjoying breakfast food any time of day – and there's been a need for more convenient, high-quality 'bake-shop' products in stores," said Shannon Gilreath, Farm Rich Director of Marketing. "Our new Bakery products have broad appeal and give consumers additional options with their morning routines, as well as filling snacks or dessert items for any time of day. They're sweet and savory, easy to stock up on, and ready in minutes."
About Farm Rich
A division of Rich Products, Farm Rich is one of the nation's leading frozen snacks and appetizers brands. The company is based in St. Simons Island, Ga., and features a full portfolio of frozen snack/appetizer/bakery products sold at grocery and club stores nationwide. Farm Rich Snacks are Real-Life Good, made with wholesome, great-tasting ingredients the whole family loves. For products, nutritional information, recipe inspirations and more, visit FarmRich.com.