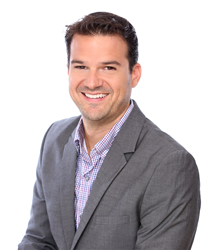 Stamford, Conn. (PRWEB) November 14, 2016
William Pitt and Julia B. Fee Sotheby's International Realty announced today that Lance Pendleton will now serve as Vice President of Sales Development and Education, a role that will bring a higher level of support to agents in offering a hospitality and concierge-oriented experience to buyers and sellers. Pendleton initially joined the firm in the summer of 2015 as Director of Education and Training.
Pendleton will maintain but also move beyond the responsibilities he has held as training director, including hosting one-on-one and group training sessions designed to instruct agents in areas such as core sales skills, key marketing strategies, company business tools, negotiations, current applications of technology and social media, and more.
In his new position, he will place a greater emphasis on supporting sales professionals as they adapt to the ever-shifting needs of real estate consumers. Pendleton specializes in the psychology of human behavior within a sales environment, and seeks to help agents strengthen their ability to humanize their business relationships, as well as work with clients of varying types and backgrounds. In his training he integrates communication skills with real-life situations to allow participants to correlate the link between business success and interpersonal relationships.
He said his goal is to expand the expertise of company agents in an approach he described as a hospitality and concierge style of client service.
"What I most look forward to in working with our sales team is helping them continually build upon their understanding of the changing needs of their clients," Pendleton said. "I also want to increase their facility with the unique and exclusive tools available through the Sotheby's International Realty® brand. The combination of the brand advantage and the direction we are taking in our client service makes us a powerful competitor as the landscape for the way people buy and sell homes evolves."
In his first year with the firm, Pendleton instituted a new online training platform on the company's intranet site, consisting of over 100 courses for both new and experienced agents. Each class, available around the clock for agents to take based on their own schedules, includes custom content created to help agents better serve their clients. For introducing this platform to the company, Pendleton was honored with the company's "Outside the Box" award.
"Real estate has changed in ways that require agents to change with it, and I am excited for Lance to work with them to exceed client expectations through developing unique services only our agents can offer," said Paul Breunich, President and CEO of William Pitt and Julia B. Fee Sotheby's International Realty. "Lance's contributions to our firm in his first year alone have been enormous, and I am confident that his accomplishments will only grow from here. I greatly look forward to working with him in his new position."
Prior to joining the company, Pendleton gained 15 years of experience as an educator of corporate employees, business development coach and speaker, with training roles at three Fortune 500 companies including Apple, Guess and Home Depot.
Lance Pendleton can be reached via phone at (203) 644-1477 or email at lpendleton(at)williampitt.com.
###
About William Pitt and Julia B. Fee Sotheby's International Realty
Founded in 1949, William Pitt and Julia B. Fee Sotheby's International Realty manages a $3.9-billion portfolio with more than 1,000 sales associates in 24 brokerages spanning Connecticut, Massachusetts, and Westchester County, New York. William Pitt and Julia B. Fee Sotheby's International Realty is the largest Sotheby's International Realty(R) affiliate globally and the 28th-largest real estate company by sales volume in the United States. A full-service real estate firm headquartered in Stamford, Connecticut, William Pitt and Julia B. Fee Sotheby's International Realty provides ancillary services including commercial services through its affiliation with Building and Land Technology, a second-generation development company based in Stamford, Connecticut; William Pitt Insurance Services; and an award-winning global relocation division. For more information, visit the website at williampitt.com.
Sotheby's International Realty's worldwide network includes approximately 19,000 sales associates located in approximately 850 offices throughout 65 countries and territories.