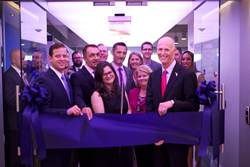 Businesses like Uniform Advantage are continuing to invest in Florida and create new opportunities for families in South Florida.
Fort Lauderdale, FL (PRWEB) November 15, 2016
Uniform Advantage (UA), a multi-channel retailer of uniforms to healthcare and hospitality industries hosted Florida Governor Rick Scott in their new corporate headquarters in Downtown Fort Lauderdale. Governor Scott visited UA on October 21st and took part in their ribbon-cutting ceremony, commended Uniform Advantage for their large increase in job growth, promoted them as an employer of choice, as well as announced Florida's September job numbers.
In support of UA's relocation to Fort Lauderdale and company growth, Governor Rick Scott, in company with Lieutenant Governor Carlos Lopez-Cantera, Executive Director for the Florida Department of Economic Opportunity Cissy Proctor, Vice Mayor of Fort Lauderdale Dean Trantalis, President and CEO of the Greater Fort Lauderdale Alliance (GFLA) Bob Swindell, and various community leaders and alliance members toured Uniform Advantage's new headquarters and spoke with employees.
"UA started as a single store 31 years ago," Susan Masimore, President and CEO of Uniform Advantage, said. "It never occurred to me that we would actually get here. But here we are, thank you so much. We have the pleasure of hosting several prominent guests here today to help us celebrate this milestone in our company and we greatly appreciate the warm welcome and all the support we've received from the Governor's office, the city of Fort Lauderdale, and the Greater Fort Lauderdale Alliance."
Now, Uniform Advantage has turned that one store into 29 retail store locations, 10 of which are in Florida, and employs more than 200 people. Lieutenant Governor Carlos Lopez-Cantera applauded UA and said, "This is a great company and it's another example of how here in Florida, we prioritize jobs because jobs help families." UA is predicted to create 50 new jobs by the end of 2018. By the end of 2016 they have already created 43 new jobs and most certainly will create more jobs than forecasted in the upcoming years.
Governor Scott explained the importance of UA's effort to create more new jobs, "Businesses like Uniform Advantage are continuing to invest in Florida and create new opportunities for families in South Florida. Over the year, the Fort Lauderdale area added 34,000 new jobs, which is great news. More than 1.2 million Floridians have gotten jobs in the past five years, and we will continue to do all we can to help every individual who wants a job to find one."
For more information on Uniform Advantage, visit their website. If interested in working at Uniform Advantage visit the career page for more information and detailed job descriptions.
About Uniform Advantage
Uniform Advantage has represented style, quality and, above all, customer satisfaction for more than 30 years. As the first division of UA Brands, the chain was launched with a single South Florida store in 1985. Today, the company operates 29 retail locations in key markets across the U.S.; e-commerce and print catalog divisions; plus, designs and manufactures its own proprietary healthcare apparel lines. The company's corporate office is based in Fort Lauderdale, Florida with a distribution center near Atlanta, Georgia. Learn more at http://www.UniformAdvantage.com or by calling 800-283-8708.