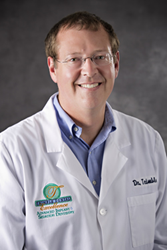 Menomonie, WI (PRWEB) November 16, 2016
Dr. Bruce Trimble of Trimble Dental Excellence is honoring National Diabetes Month by raising awareness about the link between periodontal disease, diabetes and other systemic health conditions. Research has shown that those with diabetes may be more likely to develop gum disease, which may, in turn, enhance their risk of diabetes-related complications and other health issues. Fortunately, Dr. Trimble offers several procedures as a dentist in Menomonie, WI to help patients halt the progression of periodontal disease and avoid associated health problems.
Gum disease affects over 47 percent of adults in the U.S., according to the Centers for Disease Control and Prevention, and diabetics may be especially likely to develop this condition. Diabetes leaves people more susceptible to various infections, including periodontal disease. Unfortunately, periodontal disease can make blood sugar more difficult to manage as well, which may put diabetics at risk for serious health complications. Alarmingly, research also shows that victims of periodontal disease already face an enhanced risk of other serious health problems, including stroke, heart disease and certain cancers.
People who suffer from periodontal disease can reduce their risk of these outcomes by promptly seeking treatment from a dentist in Menomonie, WI. Dr. Trimble offers several procedures, including scaling and root planing, osseous surgery and periodontal maintenance, to protect each patient's health. Scaling and root planing allows Dr. Trimble to remove plaque from below the gumline and reduce gum pocket size in a minimally invasive manner, while osseous surgery uses similar techniques to treat more severe cases of periodontal disease. Dr. Trimble also helps patients limit the progression of gum disease and enjoy better long-term health through periodontal maintenance.
People who would like to learn more about these treatment options are encouraged to visit Dr. Trimble's website at http://www.trimbledental.com. Current or new patients who need to schedule consultations regarding periodontal disease treatment with a dentist in Menomonie, WI, are encouraged to visit the website or directly call Trimble Dental Excellence at (715) 802-4360.
About the Practice
Trimble Dental Excellence is a general practice offering personalized care for patients in Menomonie, WI. Dr. Bruce Trimble offers a variety of services, including advanced dental implants and sedation dentistry. Dr. Trimble is a graduate of the University of Minnesota and has dedicated his professional career to providing you with the best that dentistry has to offer. He is continually educating himself and his staff on the newest techniques and advances to offer you state-of-the-art, antiseptic, personalized & comfortable dental care. Dr. Trimble is a fellow of the International Congress of Oral Implantologists & the Misch International Implant Institute. He is also among the few dentists in Wisconsin who are licensed for IV sedation and has received a certificate from the Temple School of Dentistry for Surgical Oral Implantology. To learn more about the services offered at Trimble Dental Excellence, please visit their website, http://www.trimbledental.com or call (715) 235-1108 to schedule an appointment.