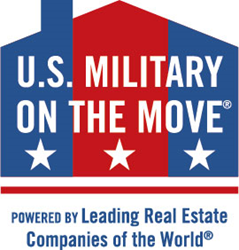 Lutz, FL (PRWEB) November 16, 2016
Dennis Realty & Investment Corp. has expanded its service offerings to military personnel through its participation in Leading Real Estate Companies of the World's U.S. Military on the Move™ program.The program was created to provide active duty, retired, and wounded warriors with special benefits on real estate services, including a real estate credit at closing in states where allowed by law.
"Many of our member real estate firms are based in areas that have a high concentration of active duty or retired military personnel," notes Pam O'Connor, LeadingRE president/CEO. "We created U.S. Military on the Move™ to make it easy for those who serve our country to connect with these market-leading real estate professionals committed to delivering premier service to military personnel, while also allowing these service men and women to benefit financially from special rebates and pricing on other value-added services."
Dennis Realty & Investment Corp. is the local representative of Leading Real Estate Companies of the World®, the largest network of 500+ premier locally-branded firms producing $235 billion in annual home sales in the U.S. Dennis Realty was selected for membership in LeadingRE, which recruits only the best among locally- and regionally-branded firms. As a member of this global network, Dennis Realty can assist home buyers and sellers worldwide and can access LeadingRE's full range of brokerage services, including lead generation, branding support, luxury marketing, web exposure, technology systems, and state of the art learning and credentialing.
 
For more information on U.S. Military on the Move™, visit http://www.USMilitaryOnTheMove.com or Email MilitaryOnTheMove(at)DennisRealty(dot)com.
About Dennis Realty & Investment Corp.
Dennis Realty and Investment Corporation's Main office is located at 1022 Land O' Lakes Blvd., Lutz, Florida 33549 and our Hernando County office is located at 3263 Shoal Line Blvd, Hernando Beach, Florida 34607. Dennis Realty has been in business since 1973. Dennis Realty specializes in residential real estate brokerage as well as residential property management with Dennis Property Management http://www.DennisRealtyRentals.com. As the most prominent office in their local markets their agents and staff are also actively involved in several local charities via http://www.DennisRealtyCares.com. Dennis Realty also has agents who specialize in Commercial Real Estate, Business Brokerage and Commercial Property Management. For more information regarding our listings, agents and services offered go to http://www.DennisRealty.com.
About Leading Real Estate Companies of the World®
Leading Real Estate Companies of the World® (http://www.LeadingRE.com) is the largest network of top independent local and regional brand-name brokerage firms in the residential sector of real estate. The 500+ firms affiliated with Leading Real Estate Companies of the World® are represented by 4,600 offices and 140,000 associates in more than 30 countries worldwide. The organization's leadership is demonstrated by the fact that its affiliates comprise 13 of the top 25 real estate companies in the country. Collectively, LeadingRE affiliates produced over 900,000 home sales valued at $235 billion in the U.S. in 2011. In addition, LeadingRE locally-branded affiliates hold the Number One position in sales in 40 of the top markets in the U.S., more than any national franchise organization. For complete information on LeadingRE statistics, visit https://www.leadingre.com/aboutus/.