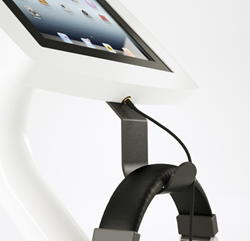 The addition of the Audio Port Add-on enhances the versatility of our tablet enclosures, stands and kiosks.
Waterloo, ON (PRWEB) November 17, 2016
As the industry grows and evolves, so do Armodilo's award-winning tablet enclosures, stands and kiosks. Armodilo is excited to announce the newest customization option, the headphone port. This new solution will allow users to easily connect any 3.5mm audio jack to the tablet without having to open the enclosure or rely on extension cables.
With this modification users will have access to a standard 3.5mm audio port at the bottom of the enclosure that will allow easy addition of accessories such as headphones, speakers and some card readers.
This new add-on is ideally suited to educational or accessible installations or anywhere the ability to quickly connect and disconnect an audio device is required.
The headphone jack can be configured on any Original product for only $29.
Visit http://www.armodilo.com for more information.
About Armodilo Display Solutions
Armodilo Display Solutions is a multiple award-winning tablet display manufacturer located in Ontario, Canada. With a variety of tablet display stands and accessories for trade show, event, retail and corporate markets, Armodilo sets itself apart by creating highly refined products for discerning brands around the world.
For more information about Armodilo, contact:
Iles Guran Founder & President
Armodilo Display Solutions
1-800-975-5946