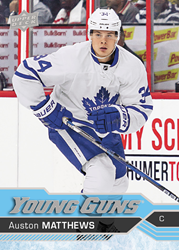 Carlsbad, CA (PRWEB) November 16, 2016
Upper Deck, the exclusive provider of NHL® and NHLPA licensed hockey cards, has come to terms with Auston Matthews, the No. 1 overall pick in the 2016 NHL Draft™. The exclusive trading card deal allows Upper Deck to be the sole provider of Matthews autographed trading cards, which will be inserted into Upper Deck's NHL product lineup.
The young phenom, who has quickly become one of the Toronto Maple Leafs'® most popular players with an astounding 10 points in his first six NHL games, will also appear on packaging for Upper Deck.
Matthews' feats have garnered much attention the past few seasons, as he led Team USA to two U18 World Junior Championship gold medals, a U17 WJC gold medal and he appeared in two IIHF World U20 Championship tournaments. Matthews kept the spotlight shining with a take-notice performance at the World Cup of Hockey 2016 in September, playing a leading role for Team North America, and thereby generating a groundswell of excitement for the start of his NHL career.
Matthews' much-anticipated debut with the Maple Leafs was simply outstanding, becoming the first player in NHL history to score four goals in his first game. This cemented what many already knew – that Maple Leafs collectors have been waiting for a rookie of Matthews's caliber for years, and his impact on the hobby could be tremendous.
"The Toronto Maple Leafs are one of the most popular NHL franchises in North America and Auston Matthews has already ignited tremendous excitement with that fan base," said Jason Masherah, president of Upper Deck. "With the nucleus of young talent they are assembling in Toronto, adding Matthews to the roster is the start of something big for the Maple Leafs. Our team is thrilled to be able to deliver exclusive content of this top player and we are committed to delivering Maple Leafs fans the best in terms of licensed trading card content for Matthews."
His first licensed NHL rookie card will be available in 2016-17 NHL® Upper Deck Series One, available now. Upper Deck recently selected the photo to appear on his "Young Guns" rookie card for that set, utilizing imagery from his historic debut. Matthews' first licensed NHL rookie cards are sure to draw significant attention, given the immense interest in his collectibles from the Leafs Nation™.
CAA Sports brokered the agreement on behalf of its client, Auston Matthews.
About Upper Deck
Upper Deck is a worldwide sports and entertainment company built on the pillars of quality craftsmanship, authenticity and innovation. Upper Deck is home to the world's greatest athletes, including Michael Jordan, Wayne Gretzky, LeBron James, Tiger Woods, Ben Simmons and Connor McDavid. In addition, Upper Deck maintains an award winning portfolio of gaming and entertainment products. Find more information at http://www.upperdeck.com, http://www.UpperDeckBlog.com, Facebook/UDAuthenticated, Instagram (UpperDeckSports), Twitter (@UpperDeckSports) and YouTube (udvids).
NHL and the NHL Shield are registered trademarks and NHL Draft name and logo are trademarks of the National Hockey League. NHL and NHL team marks are the property of the NHL and its teams. © NHL 2016. All Rights Reserved. © NHLPA. Officially Licensed Product of the NHLPA. NHLPA, National Hockey League Players' Association and the NHLPA logo are trademarks of the NHLPA and are used under license.
###