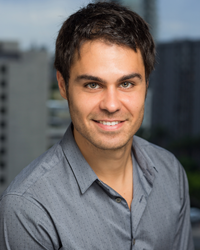 "We at BusinessOnline believe that data and analysis is the backbone of modern digital marketing and proving marketing ROI." -Rachel Ready, VP of Digital Marketing at BusinessOnline
San Diego, CA (PRWEB) November 15, 2016
Adrian Escude, Analytics and Insights Manager at BusinessOnline, a San Diego-based digital marketing agency, was named the Agency Professional of the Year at SDX Brand Diego's 2016 ceremony on November 10th.
According to the organization, "The SDX Brand Diego Awards honor San Diego companies and individuals who have made a notable or lasting impact by building strong brands through their professionalism in advertising, marketing, or communications as well as their contributions to the San Diego community at large."
Escude was awarded for his data driven mindset, bringing a new perspective to BOL, and implementing out of the box, successful marketing strategies for Tech, Retail and Manufacturing clients. His successes include connecting offline and online sales, proving digital marketing ROI, and identifying new target markets for major clients such as Kwikset, Liberty Hardware, and Delta Faucet Company.
Up against Escude were professionals from San Diego agencies including: Josh Roush of Movetic, Kerry Krasts of MeringCarson, and Sara Brooks of Covet Public Relations.
"It's wonderful to see Adrian recognized for his hard work, dedication and data-driven approach. We at BusinessOnline believe that data and analysis is the backbone of modern digital marketing and proving marketing ROI," says Rachel Ready, VP of Digital Marketing.
About BusinessOnline:
BusinessOnline is a performance-driven B2B digital marketing agency headquartered in San Diego, CA and an office in Boston, MA. Recently named 2015 "B2B Agency of the Year" by the Business Marketing Association (BMA), 6x winner of the B2 Awards, one of Ad Age's "Best Places to Work" in 2015, Fortune' Top 10 (#4) "Best Places to Work in Advertising and Marketing" and 4+ years running as a best places to work by San Diego Business Journal. The hallmark of BusinessOnline is the creation of integrated customer-centered digital campaigns that drive results and elevate marketing value. Some of BusinessOnline's mid-market and enterprise clients include HP, Teradata, Honeywell, Lithium Technologies, Milgard, Siemens and Lincoln Electric. For more information on how BOL helps clients close the marketing loop, visit http://www.businessol.com