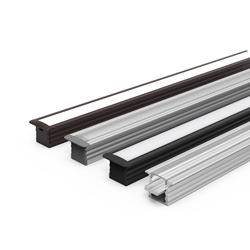 Milford, CT (PRWEB) November 15, 2016
Q-Tran, a company known for innovative designs, has impressive new products to show at two industry trade shows this week, November 15-17. Among these new products Q-Tran is launching is a new offering of Linear LEDs which will be available the first quarter of 2017. These products are in addition to the recently launched, industry leading dry-listed linear LED, three new Q-Tran designed extrusions, and a new power supply center with a built-in dimmer.
The biggest announcement at these two shows is the launch of the new product offering, the Q-Cap! Just like the existing line of Linear LEDs Q-Tran has, this line will come in many different outputs and color varieties. Come and see for yourself what sets the Q-Cap line apart from the industry.
The new iQ LED is a Dry-Listed Flexible tape light with a CRI over 95 and an R9 value over 90. The powerful 4.4 W/ft. LED provides up to 329 Lumens per foot and 75 Lumens per watt with unrivaled color rendering and saturation. It utilizes a 2835 chip size, with runs up to 21 feet long and cut points every 1.92 inches.
In September Q-Tran launched three new extrusions, VEVE, LATO and FLUR. These extrusions are designed with a sliding beam which allows the client to change the level of the LED, giving more customization over the direction and intensity of the light output. Along with the adjustable beam angles, these designs also come with an anti-glare shield for further customization. They are available in three finishes, Satin, Bronze and Black and have four different lens choices, Clear, Textured, Diffused, and Opal.
The iQ-PH, a constant voltage power supply, now has the ability to come with a built in RF dimmer. This allows for more flexibility during installation- making retrofit jobs simpler and providing perfect, flicker-free dimming, right out of the box.
Q-Tran, Inc., was founded in 1993, in response to a need in the industry for transformers specifically designed for low voltage lighting. Today, the company has grown to sell over 300 different varieties of Transformers and Power Supply Centers, as well as indoor and outdoor Architectural LED Lighting and LED Power Supplies. In 2013, Q-Tran began offering Linear LED Lighting and Extrusions and has quickly become one of the most trusted names in the Linear LED Lighting industry. By applying the same high standards, innovative design and dedication to produce only the highest-quality products, Q-Tran maintains the outstanding reputation they have been known for many years within the industry.
LED Specifier Summit Booth #305