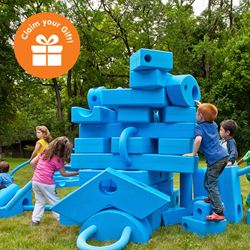 We just adore the Big Blue Blocks. They're always the first piece of equipment we want to have and we didn't want to open our new location without them, so thank you!
New York, NY (PRWEB) November 15, 2016
On the heels of their recent report of a surge in schools accepting their Gift of Play, Imagination Playground announced today even further growth in school opt-ins, pushing the total number of schools helped so far in 2016 to 411. This past week saw a total of 37 new schools enrolled in the program, surpassing last week's record of 34.
Gift of Play is Imagination Playground's offer of financial help to bring a set of their well-known Big Blue Blocks to the many deserving schools that want the benefits of creative play for their children, but are struggling with budgetary constraints. The offer—recently increased to an unprecedented level—is a cash gift translating to 20% off a 105-piece Imagination Playground set, or, an Imagination Playground set of any size.
According to Imagination Playground President Dave Krishock, Gift of Play is helping the company meet its 2016 goal to reach 3 million children, motivated by the global decline in creative play. The company reports having reached a total of 2,643,035 children so far this year.
Sharing his excitement, Imagination Playground President Dave Krishock said, "After recently increasing our efforts around Gift of Play, it's so gratifying to watch its impact grow and affect the lives of so many more children."
Among the schools that recently benefited from Gift of Play is O2B Kids, a group of Florida preschools offering creative play with Imagination Playground as part of their regular curriculum. Per Kristi McCray, School Director, Gift of Play enabled them to acquire a new Imagination Playground for the grand opening of their newest school in Altamonte Springs. Now, they are anxiously awaiting its arrival.
"We just adore the Big Blue Blocks," she said. "They're always the first piece of equipment we want to have and we didn't want to open our new location without them, so thank you!"
When asked why 02B Kids loved Imagination Playground so much, she said the biggest reason was its open-ended play possibilities. "It fits right in with our philosophy—give them the tools and watch where they take it!"
Troy Robinson, a South Carolina firefighter in the process of opening a new children's play center, Kids at Work, is also excitedly awaiting delivery of a new Imagination Playground. "I had studied several options but the Imagination Playground blocks seemed to be the right choice. The cost held me back until recently when I learned of the Gift of Play. This made my decision much easier and I can't wait to have them delivered. I think it's going to be a big hit with kids here. Thanks, Imagination Playground."
Schools (and Family Centers) interested in learning more about Imagination Playground and Gift of Play are encouraged to call 1-678-604-7466, email ContactUs(at)ImaginationPlayground(dot)org or visit http://www.imaginationplayground.com/promotions/gift-of-play.html
About Imagination Playground, LLC
Imagination Playground is a breakthrough play space concept developed to encourage child-directed, creative free play. The kind of play that experts say is critical to children's intellectual, social, physical and emotional development. Created by architect and designer David Rockwell and the Rockwell Group, Imagination Playground enables children to play, dream, build and explore endless possibilities. Imagination Playground finds its home in daycare centers, kindergartens, elementary schools, children's museums—and science, nature, discovery centers, camps, community centers, children's hospitals, hotels, public parks and more—in North America and over 60 countries overseas. For more information, visit http://www.imaginationplayground.com