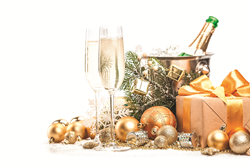 Chicago, IL (PRWEB) November 15, 2016
Gateway Foundation is setting out to spread awareness regarding holiday binge drinking and the benefits of entering treatment during the holiday season. It's easy to unintentionally binge drink during the holidays, where reasons to celebrate are around every corner. It's also easy for a person struggling with a substance use disorder to hold off on entering treatment at year's end. Gateway addresses both of these issues in the "Treatment around the Holidays" campaign.
Many people do not know what are considered moderate drinking amounts, which may be why holiday binge drinking is so common. According to the USDA, binge drinking for women is defined as more than four alcoholic drinks in a 2-3 hour period, and five or more for men. Compare this to the USDA's measurement of moderate drinking, defined as one alcoholic drink per day for a woman, and two for a man.
Gateway is also discussing the affects of holiday binge drinking on individuals who deal with functional alcoholism. Functional alcoholics can hold jobs, maintain relationships, care for children, and perform other tasks that sober people can, so it isn't always obvious that they have a problem. Because holiday binge drinking can seem socially acceptable, a functioning alcoholic may underplay the severity of their addiction and rationalize their excessive drinking as normal behavior. However, it is important to recognize that the health risks for them may still be serious.
There are plenty of benefits to holiday-concurrent treatment. Loved ones will be kept safe during times where higher incidences of drunk driving arrests, fatal accidents, and overdoses are reported. Also, treatment may be more practical this time of year, as deductibles are often already met and time off work and school may become more available.
Though treatment is often viewed as inaccessible or inconvenient during the holidays, it actually may be the best time of year to attend. The most noteworthy benefit of holiday treatment is avoiding the possibility of allowing substance abuse to intensify. Emotions always seem to run high during the holiday season, and this can likely increase the desires of those struggling to turn to drugs or alcohol as a way of coping.
Besides rethinking treatment over the holidays, Gateway encourages everyone to be mindful of drinking habits at holiday parties and celebrations this year. Someone's impressive job or responsibilities may disguise their powerful dependence on alcohol, and a "normal" atmosphere of over consumption may lead them to justify excessive drinking beyond holiday celebrations.
About Gateway Alcohol & Drug Treatment
Since 1968 our goal has been straightforward: to help clients get their life back on track and achieve a life of sobriety, free from drug use and symptoms of mental illness, that is productive, socially responsible, and healthy. As the largest, non-profit treatment provider in the country, we currently operate drug and alcohol treatment programs for men, women, adolescents, and clients diagnosed with co-occurring mental health disorders.
Gateway's Community Division has treatment centers located throughout Illinois, including Carbondale, Chicago, Lake County, Fox Valley, Springfield, and the St. Louis Metro East area. These centers offer residential and outpatient treatment services for adults, teens, and adolescents accessed through insurance, state funding, and self-pay.
Gateway's professional clinicians help thousands of individuals successfully complete treatment by developing a personalized plan that treats the underlying causes of substance abuse—not just addiction to drugs or alcohol.
Learn more about insurance coverage, treatment options, or Gateway's confidential consultation at RecoverGateway.org or call 877-505-HOPE (4673).
Reporters and Editors, for more information, please call Leslie Colman, Marketing Director, at 630-776-5725.