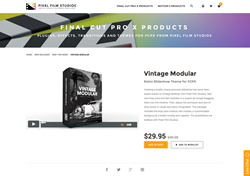 Vintage Modular allows FCPX editors to create unique vintage slideshows with complete customization
Aliso Viejo, California (PRWEB) November 19, 2016
"Vintage Modular allows FCPX editors to create unique vintage slideshows with complete customization," said Christina Austin - CEO of Pixel Film Studios.
Vintage Modular allows users to create their very own slideshow layouts with ease. After placing a module, choose an Animation for the Intro and Outro. Animations include Left to Right, Right to Left, Top to Bottom, and Bottom to Top. Adjust the width, height and placement using on-screen controls. Additional adjustments to style can be made in the FCPX inspector window.
Place modules piece by piece into the timeline and designate where the module will begin and end by dragging the ends of the module. Drop zone and text modules can be stacked on top of each other and placed using on-screen controls in the viewer window. Use all the pieces together to create a personalized scene with minimal effort.
In addition to drop zones, users can also add text to scenes by taking advantage of the New Text Module tool. Like with drop zones, users can choose an intro and outro animation using drop-down windows. Text can be placed within the scene by moving the main title and subtitle in the viewer window, or as a whole by adjusting the Text Group Position.
Add rising bokeh particles to the slideshow by placing the Bokeh Particles Overlay directly on top of modules in the timeline. Final Cut Pro X users can adjust the blend mode, opacity, amount, speed and scale of the bokeh in the inspector window. Finally, complete the vintage look with an overlaying vignette. The vignette draws focus to the center and gives scenes a retro look.
Established in 2006, Aliso Viejo, California-based Pixel Film Studios is an innovative developer of visual effects tools for the post-production and broadcast community. Their products are integrated with popular non-linear editing and compositing products from Apple FCPX. Apple, the Apple logo, Mac OS X, and Macintosh are registered trademarks of Apple Inc. in the U.S. and/or other countries. All other trademarks and trade names are the property of their respective owners.