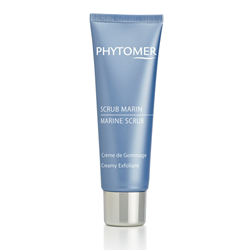 MARINE SCRUB has the richness of a cream and the effectiveness of a scrub for gentle, skin renewal.
SAINT-MALO, FRANCE (PRWEB) November 16, 2016
Phytomer's MARINE SCRUB has the richness of a cream and the effectiveness of a scrub for gentle, skin renewal. Enriched with expert marine ingredients including exfoliating black sand and pumice stone for the mechanical action as well as moisturizing marine oil and remineralizing seawater concentrate, Oligomer®. It has a very creamy texture and an enticing, fresh scent for easy application and an enjoyable sensorial experience for women and men alike. Dead skin cells and impurities are effectively removed, providing smooth, radiant skin fortified with softness and minerals, only the benefits of the sea can offer.
MARINE SCRUB Creamy Exfoliant..................................50 ml suggested retail price, $57.00
Directions for use: Apply a small amount of product once or twice a week to entire face and neck over clean, dry skin (avoiding the eye contour). Exfoliate with circular movements and then rinse with water.
Chondrus crispus marine oil - contains phytosterols that enhance skin hydration. Antioxidant properties known to fight against the harmful effects of free radicals.
Oligomer® - Phytomer's exclusive seawater concentrate gives the unique cocktail of minerals and trace elements to fortify and recharge skin.
Natural Mechanical Exfoliants:
Black sand - spherical and uniform particles for gentle exfoliation.
Pumice stone - finer and irregular particles for an invigorating exfoliaiton.
Impressive Results:
IMMEDIATELY* IN 1 MONTH**
Skin is smoother 91% For more than 9 out of 10 women
Skin is softer 87% The complexion is fresher and the skin clearer.
*Satisfaction test on 23 women after one application. **Satisfaction test on 23 women after two applications per week for 28 days.
Phytomer at a glance:
With over 40 years as the leader in the marine skin care, Phytomer is now a pioneer in the field of marine biotechnology, the future of results-oriented cosmetics. This is the newest technology to create innovative, 100% natural skin care ingredients. Based in Saint-Malo, France and distributed in 70 countries worldwide, Phytomer has a reputation of leadership and expertise within the spa industry. With Phytomer meaning "plant of the sea," we utilize seawater, seaweed or seaside plants in every retail and professional product, combining science with the natural powers of the sea. We are one of the only spa brands with our own laboratory, allowing us to research and cultivate our own ingredients, develop unique cosmetic formulas, manufacture skin care products and create cutting-edge professional treatments to deliver remarkable results.