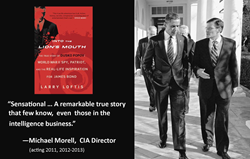 A well-researched history book and a dramatic breath-taking spy story, all of it true. ... High-integrity research ... A scholarly thriller that is hard to put down. —Dr. Robert Kuckuck, Director, Los Alamos National Laboratory (ret.)
NEW YORK, NY (PRWEB) November 16, 2016
Combing through thousands of pages in recently declassified files at the U.S. National Archives and the U.K. National Archives, attorney and author Larry Loftis has collected startling evidence regarding America's entrance into World War II. His recent book, INTO THE LION'S MOUTH, provides FBI memos and letters showing that in August 1941 J. Edgar Hoover and the FBI were not only warned of a surprise Japanese attack on Pearl Harbor, but given documentary proof.
Appendix 1 of the book, Loftis noted, includes two recently declassified documents never seen before in public: 1) an August 19, 1941 letter from FBI Assistant Director Earl Connelley to FBI Director J. Edgar Hoover; and 2) an attachment to that letter, identified by Connelley as "Exhbit C." In the letter, Connelley informs Hoover that the prior day, August 18, he and FBI Special Agent Charles Lanman met with MI6 double agent Dusko Popov and British Security Coordination liaison, Dick Ellis, at New York City's Commodore Hotel. Connelley writes that the meeting was three hours, and that Popov described in detail what the Germans had tasked him to do while on assignment in the U.S. Connelley's attached Schedule C was the English translation of Popov's two-page German questionnaire, 40 percent of which pertains to investigation of Pearl Harbor's defenses.
"Hoover told no one," Loftis stated, "not FDR, not Admiral Kimmel, not naval intelligence. The Director kept the information classified his entire life. There were eight investigations into the Pearl Harbor disaster. Not one mentions Popov's questionnaire. Not one called him or Dick Ellis to testify. Worse, Hoover actively hid the information from FDR, and concocted a canard for Reader's Digest in April 1946 to continue the subterfuge."
RELEASE OF INFORMATION
Before releasing INTO THE LION'S MOUTH, Loftis advised Admiral James A. Lyons, Jr., a former Commander of the U.S. Pacific Fleet who will be giving a special 75th Pearl Harbor Anniversary address in Washington, D.C. on December 7. After reviewing the book, Admiral Lyons concluded:
"The description of UK's successful attack on the Italian Fleet at Taranto and how that served as the model for the Japanese attack on Pearl Harbor provide an interesting insight. Most shocking, however, is the fact that J. Edgar Hoover, the FBI Director, was provided this key intelligence by Dusko Popov four months before the Japanese attack, and apparently didn't tell anyone. Many thousands of lives could have been saved and the war in the Pacific could have been brought to a successful conclusion much sooner."
"Every textbook in America will have to change," Loftis concluded.
In addition to the review by Admiral Lyons, three other high-ranking military/intelligence officials weighed in on the book: former CIA Director Michael Morell, former Los Alamos National Laboratory Director Dr. Robert Kuckuck, and former Commander of the U.S. Pacific Fleet, Admiral Ronald J. Zlatoper. Their reviews, and others, are provided below.
"Larry Loftis has written a sensational book, telling a remarkable true story that few know, even those in the intelligence business. Written in the style of the best spy thrillers, the book is impossible to put down. A must read."
—Michael Morell, CIA Director (acting 2011, 2012-13)
"Excellent book – very impressive research! This is both a well-researched history book and a dramatic breath-taking spy story, all of it true. Mr. Loftis has shown an extraordinary ability to combine the high-integrity research discipline of his legal training with a 'page-turner' writing talent to produce a scholarly thriller that is hard to put down."
—Dr. Robert Kuckuck, Director, Los Alamos National Laboratory (ret.)
"Sometimes truth is not only stranger, but more exciting than fiction. If one is an Ian Fleming aficionado and a World War II history buff, you will find Into the Lion's Mouth a merger of the most exciting and fascinating aspects of both genres. '007's' exploits in the fourteen James Bond books almost pale in comparison to the actual exploits of Dusko Popov. Like war history? Read this book. Like spy novels? Read this book."
—Four-star Admiral R. J. Zlatoper, Commander, U.S. Pacific Fleet (ret.)
"Excellent integration of primary and archival sources ... Impressive evidence ... Highly readable."
—Naval Historical Foundation
"Spectacular—incredible research and writing. Nonfiction that reads like a page-turning novel. Riveting and moving."
—Jonathan Braun, Parade
"For those wanting to know the real-life inspiration for Ian Fleming's James Bond, here it is... A work of non-fiction that's more thriller than biography. It's well-researched, but provides just enough historical background to prep us for Popov's dangerous exploits into espionage, politics and warfare."
—USA Today
"A gripping story about a fascinating man of many talents and faces—and what makes it all the more intriguing is that it's all true! This one will keep you planted in your reading chair from start to finish."
—Michael Connelly, #1 New York Times bestselling author
"Loftis recounts the exploits of the model for Ian Fleming's James Bond character with great skill.... Will have readers on the edge of their seats and immersed in this sometimes unbelievable tale."
—Library Journal
"Sifting through declassified documents from World War II—as well as hotel bills, letters and long-forgotten memoirs—Loftis painstakingly pinpoints the exact moment Bond's creator, Ian Fleming, first encountered this real-life 007."
—New York Post
"Who needs fiction. Truth is a thousand times better, and this true-life adventure has it all. Action, history, secrets, conspiracies—a sizzling piece of entertainment that's real."
—Steve Berry, New York Times bestselling author
"The real-life inspiration for James Bond proves to be every bit as riveting as any of Ian Fleming's creations ...One of the most remarkable books we've read all year... Although Into the Lion's Mouth reads more like an intelligence caper than a biography, the book is impeccably researched and cited, making it an excellent read for even the most discriminating history buffs."
—BestThrillers.com
INTO THE LION'S MOUTH
The True Story of Dusko Popov: World War II Spy, Patriot, and the
Real-Life Inspiration for James Bond
Berkley Caliber Hardcover
By Larry Loftis
ISBN: 9780425281819; $27.00; 384 pages
ABOUT THE AUTHOR
Larry Loftis is an author and AV-rated attorney. He has published legal articles in the University of Florida Law Review, Suffolk Transnational Law Journal, Georgia Journal of International and Comparative Law, Florida Bar Journal, National Law Journal, and Florida Banking. He received a BA and J.D. from the University of Florida, where he served on the Law Review as the senior executive editor and senior articles editor. He also served at the law school as a teaching fellow for Legal Research and Writing/Appellate Advocacy, and has taught law at Belhaven University.