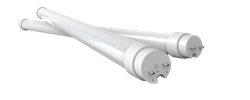 Las Vegas, Nevada (PRWEB) November 16, 2016
Transcend Lighting, Inc., leader in LED horticulture lighting, announced today the release of its LED T8 bulb. The 4-foot long LED grow light is ideal for retrofit applications where fluorescent T8 bulbs are currently being used. The LED T8 uses about half the energy of fluorescent T8s, while providing the same light output. In addition, it incorporates Transcend's patent-pending phosphor technology that provides customers with an emission spectra optimized for plant growth and production yield.
According to Transcend Lighting CEO, Brian Bennett, "The release of the T8 LED bulb builds on the successes we have seen with our other commercial LED products. However, the T8 addresses a different segment of the market. The T8 is primarily intended for commercial growers and researchers involved in tissue culture and early-stage plant propagation."
The new LED T8 light has a lifetime exceeding 65,000 hours and comes with a 5-year warranty. Transcend Lighting will be exhibiting the LED T8 in booth #732 at the Marijuana Business Conference and Expo from November 16-18 at the Rio Hotel in Las Vegas, Nevada.
About Transcend Lighting
Transcend Lighting is a leading developer and U.S. manufacturer of LED lighting technologies. In 2015, the company emerged from the world-renown Silicon Valley accelerator, Y Combinator, and is poised to transform the multi-billion dollar global horticulture lighting market. Transcend Lighting's patented and proprietary technologies enable unique advantages for horticultural solid-state lighting. Corporate headquarters is located in New York City, U.S.A. For more information, visit http://www.transcendlighting.com
Transcend Lighting Media Contact
Chuck DeMilo, VP, Marketing
800-205-7216
chuck(at)transcendlighting(dot)com