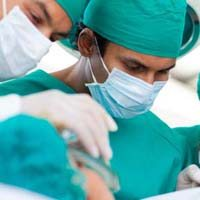 The median overall and disease-free survivals were 7.3 years and 2.3 years, respectively.
Raleigh, NC (PRWEB) November 15, 2016
A new study finds that patients with malignant pleural mesothelioma lived more than twice as long as is normally expected after a combination treatment approach. Surviving Mesothelioma has just posted an article on the new research. Click here to read it now.
Researchers at several US medical centers analyzed the cases of 73 malignant pleural mesothelioma patients who had lung-sparing surgery followed by photodynamic therapy and found a median survival rate of nearly three years. The news was even better for patients who did not have mesothelioma in their lymph nodes.
"For the 19 patients without lymph node metastases, the median overall and disease-free survivals were 7.3 years and 2.3 years, respectively," writes study author Joseph S. Friedberg, MD, mesothelioma researcher at the University of Maryland Medical Center in Baltimore.
The new study, published in The Annals of Thoracic Surgery, notes that 92% of mesothelioma patients in the study also underwent chemotherapy after their surgery.
"Given that most mesothelioma patients are told that they are not likely to live more than a year, even with the best current therapies, the success of this treatment combination is very exciting," says Alex Strauss, Managing Editor of Surviving Mesothelioma.
To learn more about the newly-published study, including an explanation of PD surgery and photodynamic therapy, see Multi-Modal Mesothelioma Treatment Leads to Three-Year Survival, now available on the Surviving Mesothelioma website.
Friedberg, JS, et al, "Extended Plearectomy-Decortication-based Treatment for Advanced Stage Epithelial Mesothelioma Yielding a Median Survival of Nearly Three Years", November 4, 2016, The Annals of Thoracic Surgery, Epub ahead of print, http://www.annalsthoracicsurgery.org/article/S0003-4975(16)31139-0/fulltext?rss=yes
For nearly ten years, Surviving Mesothelioma has brought readers the most important and ground-breaking news on the causes, diagnosis and treatment of mesothelioma. All Surviving Mesothelioma news is gathered and reported directly from the peer-reviewed medical literature. Written for patients and their loved ones, Surviving Mesothelioma news helps families make more informed decisions.