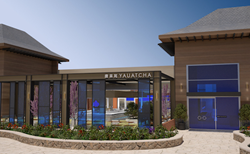 Each color of the five feng shui elements is represented throughout the restaurant – blue, yellow, red, black and white.
Honolulu, Hawaii (PRWEB) November 15, 2016
Hakkasan Group, the global hospitality company that has pioneered fine Chinese dining, will debut its first U.S. location of Yauatcha, a dim sum teahouse, on February 1, 2017 in Honolulu. Located on the Grand Lanai level of the newly redeveloped International Market Place, the indoor-outdoor restaurant will feature dim sum, a patisserie, an extensive tea menu and eclectic mixology program in a contemporary setting with 276 seats.
Yauatcha Waikiki will be one of the key restaurants in the recently redeveloped International Market Place, a storied location that is part of the land bequeathed by Hawaii's Queen Emma and King Kamehameha IV that continue to fund Queen's Hospital.
Launched in London in 2004, Yauatcha Soho earned a Michelin star within its first year, which it has since retained. The innovative dim sum dining experience, a modern interpretation of the traditional Hong Kong teahouse, is ideal for a light lunch of steamed, baked, grilled or fried dim sum or larger feasts of duck, fish and noodle dishes. Yauatcha is also famed for its wide selection of teas and assorted patisseries and is a popular destination for social cocktails with friends or colleagues.
Paris-based design firm GBRH created the interiors, as the firm has done for two previous Yauatcha locations. Keeping to the restaurant's contemporary take on traditional Asian design, GBRH's designers approached the project with the intent of creating a warm and sleek atmosphere, comfortable yet elegant enough to set the stage for Yauatcha's cuisine. Each color of the five feng shui elements is represented throughout the restaurant – blue, yellow, red, black and white. From the furniture to decorative lighting and intricate design throughout, each detail was considered to create a truly unique concept that feels both balanced and harmonious.
Guests enter Yauatcha through the retail and a la carte patisserie, which displays a full spectrum of handcrafted chocolate truffles, macarons, tarts and petites gateaux. Next is the main dining area with yellow chairs, the main bar, dining lounge and a dim sum counter with tall Chinese red chairs, and finally the outdoor terrace. Elegant, creative design unifies the space, providing a distinct dining experience for guests.
Yauatcha has a design DNA that will be recognizable to those who have visited. The smooth blue glass has become a standalone trademark, used in softly glowing doors, partitions and shelving. The brick walls, typical of traditional tea houses, add texture to the intricately carved wood walls, encasing ambient light fixtures. A quatrefoil is used as a captivating design motif in oversized door handles and the cut-outs in the backs of bar chairs. White ceramic tear-drop lights fall from a dark ceiling with thousands of pinpoints of light.
Other materials include fabricated terrazzo tile floors, wood veneer, wooden beams, white marble in the pastry and bar areas, and custom-designed embroidered leather banquettes. A slender blue aquarium, also a signature note, is tucked above the patisserie and the terrace affords a view of one of Hawaii's cherished banyan trees. Lush greenery completes the exterior landscape.
Yauatcha will be located at International Market Place, 2330 Kalakaua Ave, Honolulu, Hawaii.
Guests interested in receiving more information can visit http://www.Yauatcha.com/Waikiki for reservations, promotions and additional details regarding the restaurant or by visiting http://www.Facebook.com/YauatchaWaikiki or http://www.Instagram.com/YauatchaWaikiki.
# # #
About Yauatcha
Yauatcha is a Chinese dim sum teahouse offering an all-day dining experience. It launched in Soho, London in 2004 gaining immediate critical acclaim and receiving its Michelin star within a year of opening, which it maintains to this day. Yauatcha City opened in May 2015 following the success of the Soho restaurant. Yauatcha provides a unique dining experience, offering authentic dim sum with a contemporary influence. The menu includes a wide selection of dim sum and a list of over 30 types of tea. Yauatcha is also known for its hand-made petits gateaux and macarons. Yauatcha's innovative cocktail program brings together Asian-inspired ingredients such as tea and lemongrass with fresh tropical fruits. The design offers full view of the kitchens allowing passers-by to witness the preparation of the expertly made dishes. Yauatcha is a part of Hakkasan Group, which has pioneered Chinese fine dining globally through its Michelin-starred Cantonese restaurants Hakkasan, HKK and Yauatcha. Yauatcha also has four restaurants in India; Mumbai, Bengaluru, New Delhi and Kolkata, and is launching in Waikiki, Hawaii in February 2017, Houston, Texas in March 2017, and Saudi Arabia in 2018.
About Hakkasan Group
Hakkasan Group is a worldwide hospitality company with establishments across the United States, Europe, Middle East and Asia. Its namesake is taken from its Michelin star restaurant that set the high-level standard for the group's collection of diverse brands. Its 'brand first' philosophy builds restaurant, nightlife, daylife and soon-to-be hotel concepts into world-class hospitality brands, all with a focus on service, design, innovation and experience.
Its restaurant portfolio includes Hakkasan, with 11 locations worldwide, Ling Ling, Yauatcha, HKK, Sake no Hana, Herringbone and Searsucker. Under the nightlife/daylife umbrella of brands are Hakkasan Nightclub, Wet Republic, OMNIA and Jewel.
Hakkasan Group is fully owned by Alliance International Investments LLC, an investment company based out of Abu Dhabi. For more information, visit http://www.hakkasangroup.com.
About International Market Place
Located in the heart of Waikiki, International Market Place is a world-class shopping, dining and entertainment destination featuring a curated mix of upscale and lifestyle brands, and the first Saks Fifth Avenue in Hawai'i. The shopping center is open from 10 a.m. to 11 p.m. daily. Operating hours for restaurants will vary. For ease of access, the center provides 700 parking spaces and convenient valet parking. For more information, visit ShopInternationalMarketPlace.com, Instagram: @intlmktplace, Facebook: facebook.com/IntlMktPlace, and in Japanese ja.shopinternationalmarketplace.com, Instagram: @intlmktplacejp, Facebook: facebook.com/IntlMktPlaceJP.