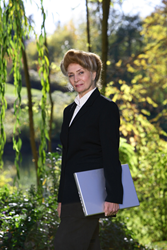 Grants Pass, OR (PRWEB) November 15, 2016
Sharon Kleyne recently announced on her nationally syndicated radio program, The Sharon Kleyne Hour Power of Water, Global Climate Change and Your Health on Voice of America that the annual curse of DRY winter skin can be defeated.
"The winter season is coming up fast in our rearview mirror," said Kleyne. "It will be here before we know it. Will you," she asked her listeners, "be ready for it?" Kleyne reminded her audience that the first thing they do when they go indoors in winter is turn on or turn up the heat. "As soon as heat of any kind contacts the human body," Kleyne said, "drying out of the skin due to evaporation takes place."
Sharon Kleyne, America's leading water research technology expert, has taught millions about earth's water vapor (we cannot breathe without it) and the body's water vapor (if we dry out too much, we die). Short of death, dehydration of the skin due to excessive evaporation can lead to DRY skin results such as psoriasis, allergies, infections and many other ailments.
"When people think of skin care," Kleyne said, "they tend to think of moisturizers. In winter, oil-based moisturizers do help by trapping moisture, but they do not replenish body water vapor that has already been lost due to evaporation. If you use only a moisturizer, DRY skin will persist."
Fortunately, there is beneficial relief for DRY skin that is widely available to everyone, and it is not a lotion or a cream. The company and research center that Sharon Kleyne founded, Bio-Logic Aqua® Research Water Life Science®, developed a new water technology, the product Nature's Mist® Face of the Water® that supplements water body vapor loss of DRY skin.
Nature's Mist® Face of the Water® consists of Trade Secret tissue culture grade water with a Ph that most closely equals the natural Ph of human skin. Extensively tested by scientists and research labs that found the Trade Secret liquid the rarest natural water in the world, Nature's Mist® Face of the Water® contains no additives; it is painless, easy and fun to use. Nature's Mist® Face of the Water® is applied to the skin, not as drops, but as a fine micron mist from a handheld, portable personal humidifier.
Sharon Kleyne said that people around the world are suffering more DRY skin diseases and ailments than ever before. Like the eyes, Kleyne continued, "the skin (70% to 75% water) should be supplemented several times a day with tissue culture grade water." Kleyne encouraged listeners to carry with them and use Nature's Mist® Face of the Water®. "We're living, walking, breathing sponges," Kleyne said. "We are the water. We're fluid," Kleyne said. "There is nothing about life that is DRY. In fact," Kleyne concluded, "DRY is the opposite of life."