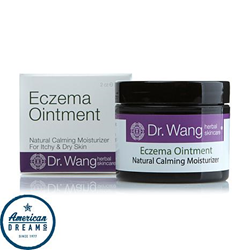 "We specifically created this natural, herbal-based skincare formulation for people with eczema and sensitive skin," said Steven Wang, MD. "We hope this product can provide soothing and calming relief for millions of people."
Chatham, New Jersey (PRWEB) November 16, 2016
Dr. Wang Skincare, LLC, developer of herbal-based and non-steroidal skincare formulation, announced today that its Eczema Ointment has been selected by the Good Housekeeping magazine as one of the new invention that could change one's life.
Earlier this summer, a nationwide search was conducted to find a passionate entrepreneur with a new and unique discovery. More than 600 contestants participated in the contest submission, and more than 75 entrepreneurs were invited to present their products to panels of judges. After a tough selection process, nine finalists are selected and featured in the December issue of Good Housekeeping magazine.
"We are honored that judges recognized the health values and innovations of our research," said Gui Wang, co-Founder and licensed acupuncturist and herbalist.
There are over 150 millions Americans with eczema and sensitive skin. Many are struggling with the constant itchy and unsightly rash. Many are looking for alternative solutions to attain healthier looking skin.
"Itch is a common complaint in many skin conditions," said Steven Wang, MD. "Naturally, people scratch for comfort, which breaks the outer protective layer of the skin. Damaged skin leads to inflammation, which makes itch worse. So, many people are trapped in the Itch-Scratch cycle. Our novel skincare formulation is designed specifically to help break the Itch-Scratch Cycle."
The skincare formulation has no steroids and is herbal-based.
The team is currently waiting for the final test results from the Good Housekeeping Institute and competing for the coveted Good Housekeeping Seal.
For more information about Dr. Wang Skincare. please visit http://www.drwangskincare.com/ and follow our social channels on: Facebook (http://www.drwangskincare.com/), Instagram (https://www.instagram.com/drwangskincare/), and Twitter (https://twitter.com/drwangskincare)
Media Contact:
Dr. Wang Skincare
Steven Q. Wang, MD
Co-Founder
Email: Wangs01(at)DrWangSkincare(dot)com
(888) 968-2347
About Dr. Wang Skincare, LLC:
Dr. Wang Skincare, LLC, is a skincare company based in Chatham, New Jersey. Founded by a father-and-son team, the company formulates novel skin care products by combining the power of Eastern botanicals with the rigor of Western sciences. To learn more about their breakthrough, natural, herbal and non-steroidal products for people with eczema and other skin conditions visit: http://www.drwangskincare.com/
About Good Housekeeping:
Celebrating 130 years, Good Housekeeping (goodhousekeeping.com) is a leading lifestyle media brand inspiring a monthly audience of 30+ million readers to discover genius innovations, delicious ideas, style-savvy trends, compelling news and best-in-class products for their homes, families and themselves. The Good Housekeeping Institute's state-of-the-art labs combined with Good Housekeeping's seasoned editorial talent is unparalleled. Staffed by top engineers, scientists and technology experts, the GH Institute tests and evaluates thousands of products each year for the magazine, website and for the Good Housekeeping Seal and the Green Good Housekeeping Seal, which are among the most recognized and trusted consumer icons in the world today. Good Housekeeping, which also has five international editions, is published by Hearst Magazines, a unit of Hearst, one of the nation's largest diversified media, information and services companies. With 21 titles in the U.S., Hearst is the leading publisher of monthly magazines in terms of total paid circulation, and reaches 79.5 million readers and 68 million unique site visitors each month (comScore). Follow Good Housekeeping on Facebook, Instagram, Twitter, Pinterest and on the Inside the Institute blog. Follow Jane Francisco on Twitter and Instagram.