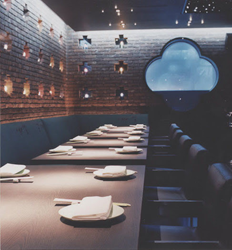 Yauatcha Waikiki is seeking to hire more than 100 employees for a wide range of culinary and hospitality positions.
Honolulu, Hawaii (PRWEB) November 15, 2016
Yauatcha Waikiki, a Chinese dim sum teahouse with a pâtisserie and extensive mixology program, will host a three-day job fair in anticipation of its early 2017 debut at the International Market Place in Waikiki. Yauatcha Waikiki is seeking to hire more than 100 employees for a wide range of culinary and hospitality positions. The job fair will be held at the Moana Surfrider Hotel Ballroom from November 19-21, 2016.
Yauatcha Waikiki will be one of the key restaurants to join International Market Place, a shopping, dining and entertainment destination in the heart of Waikiki. The restaurant is the latest opening by Hakkasan Group, a leader in global hospitality, dining, nightlife and entertainment. Waikiki will be the first U.S. location for Yauatcha, which launched in London in 2004 and received a Michelin star soon after and still maintains to this day.
Dates:
Saturday, November 19
Sunday, November 20
Monday, November 21
Time:
9 a.m.–9 p.m.
Location:
The Moana Surfrider Hotel – Ballroom, 2365 Kalakaua Avenue, Honolulu, HI 96815
Parking details:
Parking is available directly across the street at Sheraton Princess Kaiulani, 120 Kaiulani Avenue, Honolulu, HI 96815.
Self-parking is available at $5.00 per 12 hours and valet parking at $12.00 per 12 hours.
Available positions include:
Multiple Restaurant Management Positions including General Manager, Restaurant Manager, and Bar Manager; Cocktail Runners; Bar Backs; Baristas/Polishers; Bartenders; Bussers; Expeditors; Food Runners; Food Servers; Hostesses/Hosts; Chef's Personal Assistant; Dim Sum Commis; Dim Sum Demi Chefs de Partie; Duck / Chopper Chefs de Partie; Duck / Chopper Demi Chefs de Partie; Pastry Chef; Pastry Chefs de Partie; Pastry Cooks; Pastry Sous-Chef; Porters; Wok Chefs de Partie; Wok Demi Chefs de Partie; and Sommeliers.
How to apply:
Interested applicants are encouraged to visit the job fair site and apply online for posted openings by visiting http://hakkasangroup.com/hakkasan-careers/
Yauatcha will be located at International Market Place, 2330 Kalakaua Avenue, Honolulu, HI 96815.
Guests interested in receiving more information can visit http://www.Yauatcha.com/Waikiki for reservations, promotions and additional details regarding the restaurant or by visiting http://www.Facebook.com/YauatchaWaikiki or http://www.Instagram.com/YauatchaWaikiki.
About Yauatcha
Yauatcha is a Chinese dim sum teahouse offering an all-day dining experience. It launched in Soho, London in 2004 gaining immediate critical acclaim and receiving its Michelin star within a year of opening, which it maintains to this day. Yauatcha City opened in May 2015 following the success of the Soho restaurant. Yauatcha provides a unique dining experience, offering authentic dim sum with a contemporary influence. The menu includes a wide selection of dim sum and a list of over 30 types of tea. Yauatcha is also known for its hand-made petits gateaux and macarons. Yauatcha's innovative cocktail program brings together Asian-inspired ingredients such as tea and lemongrass with fresh tropical fruits. The design offers full view of the kitchens allowing passers-by to witness the preparation of the expertly made dishes. Yauatcha is a part of Hakkasan Group, which has pioneered Chinese fine dining globally through its Michelin-starred Cantonese restaurants Hakkasan, HKK and Yauatcha. Yauatcha also has four restaurants in India; Mumbai, Bengaluru, New Delhi and Kolkata, and is launching in Waikiki, Hawaii in February 2017, Houston, Texas in March 2017, and Saudi Arabia in 2018.
Hakkasan Group
Hakkasan Group is a worldwide hospitality company with establishments across the United States, Europe, Middle East and Asia. Its namesake is taken from its Michelin star restaurant that set the high-level standard for the group's collection of diverse brands. Its 'brand first' philosophy builds restaurant, nightlife, daylife and soon-to-be hotel concepts into world-class hospitality brands, all with a focus on service, design, innovation and experience.
Its restaurant portfolio includes Hakkasan, with 11 locations worldwide, Ling Ling, Yauatcha, HKK, Sake no Hana, Herringbone and Searsucker. Under the nightlife/daylife umbrella of brands are Hakkasan Nightclub, Wet Republic, OMNIA and JEWEL Nightclub.
Hakkasan Group is fully owned by Alliance International Investments LLC, an investment company based out of Abu Dhabi.
For more information, visit http://www.hakkasangroup.com.
About International Market Place
Located in the heart of Waikiki, International Market Place is a world-class shopping, dining and entertainment destination featuring a curated mix of upscale and lifestyle brands, and the first Saks Fifth Avenue in Hawai'i. The shopping center is open from 10 a.m. to 11 p.m. daily. Operating hours for restaurants will vary. For ease of access, the center provides 700 parking spaces and convenient valet parking. For ease of access, the center provides 700 parking spaces and convenient valet parking. For more information, visit
ShopInternationalMarketPlace.com, Instagram: @intlmktplace, Facebook: facebook.com/IntlMktPlace, and in Japanese ja.shopinternationalmarketplace.com, Instagram: @intlmktplacejp