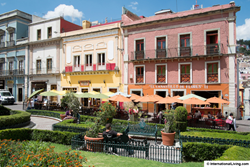 She is one of thousands of North American singles who are moving abroad to enjoy a more affordable lifestyle.
Baltimore, MD (PRWEB) November 15, 2016
Ever since the global recession nudged overseas retirement toward the mainstream, more and more North Americans have headed beyond home borders to stretch their retirement dollars. And many of them—nearly half according to International Living's editors—are single: divorced, never married, or, like Kit Fitley, widowed.
Last year, at age 70, Fitley moved to a beach town in Panama. "Most of my friends [back home] consider what I'm doing extremely daring," she says. But Fitley is riding a trend. She is one of thousands of North American singles who are moving abroad to enjoy a more affordable lifestyle.
There is no hard data on the number of U.S. singles abroad, but International Living correspondents report—and attendance at International Living conferences indicates—that the percentage of single expats abroad may match the percentage of all single U.S. adults, about 47 percent.
Here are some of the most popular places to which single U.S. expats are moving.
Mexico has more North American expats than any other foreign country in the world, and for good reasons. Mexico is close and convenient, has modern infrastructure and has a much lower cost of living than the U.S. or Canada.
For these reasons, Mexico has expat communities all over the country, and in many of them, single U.S. expats can get by in English. Examples include: San Miguel de Allende and the Lake Chapala area, both in the interior of central Mexico; Puerto Vallarta, on the Pacific Coast; and the Riviera Maya, along the Caribbean Coast of Mexico's Yucatán Peninsula.
Ecuador is popular for its low cost of living, breathtaking scenery, and indigenous culture. It also uses the U.S. dollar as its currency. Singles tend to head to population centers with good infrastructure and amenities, including the capital, Quito, Cuenca, in the interior; and the Pacific beach towns of Salinas and Manta.
In Costa Rica, singles can be found throughout the country, but many prefer the Central Valley towns around the capital of San Jose or beach towns like Tamarindo.
Panama is another popular destination for single U.S. expats. Panama had a large North American community for decades thanks to the Panama Canal, and the country uses the U.S. dollar.
International Living's in-depth report on single expats abroad contains more popular countries for single U.S. expats, interviews with single U.S. expats already living abroad, and advice for singles on how to choose the right destination. Find the latest International Living report at: Going Solo: How and Where to Enjoy Life Abroad as a Single.
Editor's Note: Members of the media have permission to reproduce the article linked above once credit is given to InternationalLiving.com.
For information about InternationalLiving.com content republishing, source material or to book an interview with one of our experts, contact Associate Editor Carol Barron, 772-678-0287 (US), CBarron(at)InternationalLiving.com.
For 36 years, InternationalLiving.com has been the leading authority for anyone looking for global retirement or relocation opportunities. Through its monthly magazine and related e-letters, extensive website, podcasts, online bookstore, and events held around the world, InternationalLiving.com provides information and services to help its readers live better, travel farther, have more fun, save more money, and find better business opportunities when they expand their world beyond their own shores. InternationalLiving.com has more than 200 correspondents traveling the globe, investigating the best opportunities for travel, retirement, real estate, and investment.