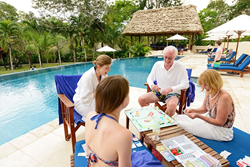 The good news is that relocating to Belize is incredibly easy
San Ignacio, Belize (PRWEB) November 17, 2016
A popular Belizean eco-resort reports it has recently seen an increase in enquiries about moving to Belize, and says the good news is that The Lodge at Chaa Creek has been providing such advice for decades and even offers special Belize vacation packages designed to turn fact-finding into an enjoyable holiday experience.
Jared Bradley, social media administrator for Chaa Creek, located in Belize's fast growing Cayo District, said that a Belize vacation presents perfect opportunities for becoming familiar with the little English speaking country while having a great holiday.
"Ever since November 8, 2016 we've seen an increase in enquiries about what's involved in moving to Belize," Mr Bradley said, "Fortunately, after decades of providing such advice, and having retirement fact-finding Belize vacation packages already in place, we're able to handle an increase in traffic and satisfy those kinds of requests.
"The good news is that relocating to Belize is incredibly easy. In fact, the Belize government provides incentives that make retiring here very attractive," he said.
Mr Bradley said that, given the recent attention to relocating to Belize, Chaa Creek has refreshed its "Belize Discovery Vacation Package," and added specific relocation assistance to its menu of tours and excursions.
"Different people are interested in moving to Belize for different reasons, so we wanted to offer flexibility, ease and affordability," Mr Bradley explained.
The "Belize Discovery Vacation Package" combines an enjoyable vacation with specialised advice and access to professionals in areas such as migration, legal advice, real estate, education, health and other areas, Mr Bradley said.
Mr Bradley explained that a new surf and turf version has been added to the existing Belize Discovery Vacation Package.
"The original Belize Discovery Vacation Package may be enjoyed as a three, four or five nights holiday. The three day package includes eco-luxe accommodation, all meals, unlimited access to all amenities and activities within Chaa Creek's 400-acre private nature reserve, as well as one full and one half day tour from our menu of Belizean tours and activities, while the four and five night packages offer the same unlimited access with two full day and one half day tours and more time to collect information and have a look around.
"Throughout the vacation, our retirement and relocation specialists will work with guests to provide advice and information and help organise meetings with professionals who can answer specific questions and provide expert advice.
"The Belize Rainforest to Reef Discovery Package expands the Belize Discovery Vacation Package to a surf and turf style all-inclusive Belize vacation package that offers a seamless and surprisingly affordable way to experience both inland Belize and the Caribbean island lifestyle of Belize's Cayes for one set price. With stays at two of Belize's most luxurious eco-resorts, The Lodge at Chaa Creek and Victoria House on Ambergris Caye, travellers will experience the best of both Belizean worlds while, again, speaking with experienced professionals and our own retirement and relocation team," he said.
Mr Bradley said the retirement and relocation team is also happy to work with guests during visits of any length to Chaa Creek.
"Our team is always on hand to help with any questions, point people in the right direction and help with things like car rentals and providing contact details of professionals who can help in the quest for that perfect new home; whether inland, on the Caribbean coast, or out on the cayes," he said.
Mr Bradley advised people interested in moving to Belize to do a bit of homework before embarking on their fact-finding excursion.
"Before they leave home, people can familiarise themselves with the various incentives to retire or relocate to Belize. The Belize government's Qualified Retired Persons Incentive Act, or QRP, is operated by the Belize Tourism Board and has been in effect since 1999," he said.
Mr Bradley said another option is to seek Belizean permanent residency, which people can apply for themselves, or by hiring an "expediter." There are attorneys, retired immigration officers, justices of the peace and other professionals who specialise in this area, he explained.
"There are a variety of ways to approach retirement or relocation to Belize, and by spending a bit of time on the internet researching options, guests will arrive with a better idea of what questions to ask.
"Once they're here, we can help them put together a plan, and then put it in action in the most enjoyable, relaxing way possible.
"It's the easiest, most seamless and affordable way to become familiar with Belize's surprisingly diverse landscape. With everything from accommodation, meals, activities and transfers included, all-inclusive Belize vacation packages are some of the most time and cost efficient ways to get to know this amazing country," he said.
Mr Bradley said that, with so much activity on social media lately, he can understand the spike in interest in Belize.
"We've heard that Canada's immigration website actually crashed due to increased traffic just after the recent US elections, so the surge in interest in Belize makes sense. After all, we're also an English speaking, peaceful Commonwealth country close to the US with many cultural similarities.
"We also have stunningly beautiful scenery, but with several advantages over our friends to the north, such as year round swimming, an average yearly temperature of 84°F (29°C), lovely beaches, a small, famously friendly population, fresh fruit juices and cheap domestic rum.
"To me, choosing to live in Belize is a no-brainer," Mr Bradley said, "And people can feel free to contact Chaa Creek directly for more information and assistance. We're happy to help."
The Lodge at Chaa Creek is a multi award winning eco resort set within a 400-acre private nature reserve along the banks of the Macal River in Belize.