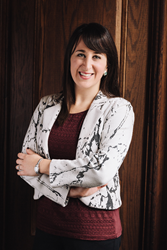 "Carrie is an amazing individual who exudes energy, passion and leadership. It has been exciting to watch her conceptualize, create and grow this inspiring "Women in Leadership" series," said Tim Hebert, CEO, Atrion.
Providence, RI (PRWEB) November 16, 2016
Determined, ambitious and innovative. Three words that describe a Tech10 award recipient and a local leader doing remarkable things in the technology space. Carrie Majewski, marketing director for Atrion, A Carousel Company, is the latest to receive the honor of a Tech10 award from Tech Collective in the Women in Tech category. She was celebrated Thursday, November 10, during a ceremony at the Providence Downtown Marriott and is profiled in the November issue of Rhode Island Monthly.
Majewski launched the Women in Leadership series on the Atrion blog as a way to highlight powerful women serving in the technology industry—a space she often felt was devoid of strong female role models.
"Throughout my career, I have had the good fortune to learn from some amazing female leaders—but I was always conscious that women in leadership roles were still fairly rare, and I heard that same sentiment from friends and colleagues," Majewski said. "With this series, I wanted to bring the powerful stories of female leaders to the greater community, while simultaneously help nurture the next generation of women in leadership. This recognition from Tech Collective is both humbling and a wonderful validator that these stories are resonating."
Majewski relishes sharing these stories; it fosters connections between the women featured and encourages future generations of women to hold leadership positions in tech.
"The blog finds these strong women in the local community, profiles their stories, their experiences and the challenges that they're encountering and shares their stories with others in the hope of inspiring future leaders," she said.
"Carrie is an amazing individual who exudes energy, passion and leadership. It has been exciting to watch her conceptualize, create and grow this inspiring "Women in Leadership" series," said Tim Hebert, CEO, Atrion. "Receiving this Tech10 award validates her vision, passion and leadership, and is evidence of her ability to provide a forum for women in technology and leadership. I am so proud to have her on the team and I can't wait to see her vision continue to flourish."
Since the series, Majewski has gone on to form the Women in Leadership Nexus, a platform dedicated to the promotion, advocacy, empowerment and advancement of today's female leaders. In the coming months, Majewski will be focused on growing the association, one that will ultimately include membership opportunities, events, resources and more.
Carousel Industries' Jason Viera, network solutions director, is also a winner and received an honor in the CIO/CTO category. Carousel Industries recently acquired Atrion and will merge to form a powerhouse IT services firm.
Tech Collective is Rhode Island's industry association for Information Technology and Bioscience, with awards provided in partnership with Rhode Island Monthly. Tech10 distinguishes Rhode Island's brightest entrepreneurs and IT practitioners, as well as showcasing organizations who are driving innovation and education.
About Tech Collective
Tech Collective is Rhode Island's Information Technology and Bioscience Industry Association. We foster the growth, innovation, and economic momentum of Rhode Island's high-tech industries and workforce. Collaborating with local and national government, industry, and academic partners, Tech Collective programs directly impact Rhode Island. Since its transition from the Rhode Island Technology Council (RITEC) in 2004, Tech Collective has received more than $12M in federal, state, and private grant funding. Awards and funding include Governor's Workforce Board RI Industry Partnerships, Real Jobs RI, Ready to Work/ Tech Force RI, and national recognition with the state of Rhode Island from President Obama's TechHire initiative.Get connected to Tech Collective at http://www.tech-collective.org, on LinkedIn (Tech-Collective), on Twitter (@Tech_Collective), and on Facebook (TechCollectiveRI).
About Atrion, A Carousel Company
Atrion Inc., A Carousel Company, is committed to helping its clients make sound technology decisions that lead to favorable business outcomes. The leading IT services firm offers a robust set of services and solutions—with a focus on innovative IT leadership, consultative, professional and managed services—spanning the following areas: productivity and collaboration; unified communications; networking; systems integrations; data center; and security. Atrion is regularly tapped for its unique IT expertise, and has received several awards among the years, including Fastest Growing Company by Providence Business News, CRN Tech Elite 250 and MSP 500, Inc. 5000 and more. Atrion is a Cisco and Microsoft Gold Partner. Find Atrion online: http://www.atrion.com, on Facebook, Twitter, and on LinkedIn.