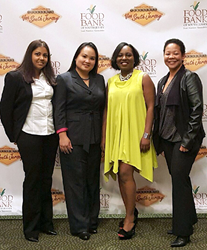 Burlington, NJ (PRWEB) November 16, 2016
Andrews Federal recently donated $2,500 to purchase meals for Viva South Jersey, the Food Bank of South Jersey's annual fundraising gala. The event goes a long way in generating funds to serve nearly 200,000 food-insecure South Jersey families from Burlington, Camden, Gloucester and Salem Counties.
The Credit Union's donation helped purchase 12,500 meals for food-insecure children. Additionally, staff from the New Jersey region volunteered their time to pack and distribute the food.
"We are always excited to give back to the communities we serve," said Christina Nixon, Burlington Branch Manager. "This time of year is tough on so many families. It feels good to be able to help out as much as possible."
About Food Bank of South Jersey
The Food Bank of South Jersey exists to provide an immediate solution to the urgent problem of hunger by providing food to needy people, teaching them to eat nutritiously, and helping them to find sustainable ways to improve their lives.
About Andrews Federal Credit Union
Andrews Federal Credit Union was founded in 1948 to serve the needs of military and civilian personnel by providing a vast array of financial products and services. With over $1 billion in assets, Andrews Federal has grown to serve more than 117,000 members in the District of Columbia, Joint Base Andrews (MD), Springfield, Virginia (VA), Joint Base McGuire-Dix-Lakehurst (NJ), and military installations in central Germany, Belgium, and the Netherlands. In addition, the Credit Union serves as a financial partner with many select employee groups in Maryland, the District of Columbia, and New Jersey.
To learn more about Andrews Federal Credit Union and its community involvement, or to become a member, call 800.487.5500 or visit http://www.andrewsfcu.org.