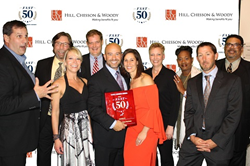 "It's a great honor to be recognized with this award and to be the fifth-fastest growing private company in our market, but we are even more humbled to be the fastest-growing private homebuilder in Raleigh-Durham." - Ric Rojas, president, Level Homes
Raleigh, N.C. (PRWEB) November 16, 2016
Level Homes, a fast-growing, top-200 home builder based in Baton Rouge, La., was named a winner in the Triangle Business Journal's Fast 50 Awards, an annual celebration recognizing the 50 fastest-growing private companies in the Triangle area surrounding Raleigh-Durham, NC, as a result of its Raleigh-Durham Division's growth in 2015.
In addition to being included among the top 50 fastest-growing private companies, Level Homes was deemed by PricewaterhouseCoopers (financial firm verifying the financials of all companies chosen) as the 5th Fastest Growing Private Company in the Raleigh-Durham MSA and the 1st of all Private Homebuilders in the market.
"It is a great honor to be recognized with this award and to be the fifth-fastest growing private company in our market, but we are even more humbled to be the fastest-growing private homebuilder in Raleigh-Durham," said Ric Rojas, president and partner of Level Homes. "Our very talented, world-class team of highly trained, highly motivated customer-focused associates have worked hard to deliver the level of quality and service our homebuyers expect, resulting in this award and our being named the fastest-growing private builder - Second 100 by Builder Magazine."
The Fast 50 winners were selected and ranked based on several factors, including revenue growth and profitability in the previous three years (2013 to 2015), as determined by Fast 50 partner PricewaterhouseCoopers.
Combined, companies honored in the Fast 50 Awards have increased employment by 7,200 employees in the past year and are planning to hire an additional 8,300 in the next 12 months.
Level Homes congratulates all of the award winners, particularly Mako Medical Laboratories, a 185-employee company in Raleigh, winning the top spot in the awards.
To see the complete list of the Fast 50 Award winners, please visit the Triangle Business Journal website.
Founded in 2000, Level Homes builds homes in Baton Rouge, La., and other leading markets in Louisiana, as well as in the Raleigh, N.C., area. In 2015, Level Homes was recognized as a Top 200 Builder in the nation and named the fastest growing Next 100 builder in the United States by Builder Magazine.
To learn more about Level Homes, its award-winning new homes and communities and the company's unique approach to building, "Life. Style. Home.", visit http://www.levelhomeslifestyle.com/.