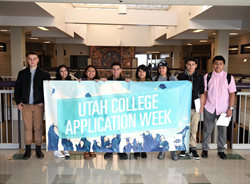 I had forgotten that it was just fun to learn.
Salt Lake City, Utah (PRWEB) November 17, 2016
Salt Lake Community College President Deneece G. Huftalin on Monday urged students at Horizonte Instruction and Training Center to consider how a post-secondary education can help increase their earning potential by about $830,000 over a lifetime. "That's almost a million dollars more you'll earn with a college degree," Huftalin told the students during a kickoff event for the statewide Utah College Application Week (UCAW). "That's a significant amount of money. Not everyone is motivated by money, but that's something to pay attention to."
Utah joined a national effort in 2013 to increase the number of seniors filling out college applications with a pilot program in three districts and eight high schools. In 2015 students in Utah submitted over 21,000 applications to colleges and universities. This year Utah has 114 high schools on board, and it's anticipated that 25,000 senior students will complete at least one college application during the school day throughout the month of November. Last year Governor Herbert proclaimed November College Application Month, and schools pick a week in November to host their UCAW events.
Huftalin also told Horizonte students that a college degree or certificate also makes them more attractive to employers, who she said are looking for applicants who can communicate well with a diverse group of people and collaborate effectively in a group setting. Using her own example of initially being "scared" to go back to college late in life for an advanced college degree, she reminded students of the intrinsic values of education. "I had forgotten that it was just fun to learn," she said.
Horizonte Instruction and Training Center is a multicultural, ambitiously innovative, and comprehensive multi-campus school whose many flexible programs serve the needs of students throughout the Salt Lake area. Horizonte operates several different programs under the motto "As far as the eye can see, as far as the mind can reach." Horizonte serves about 800 high school students and 60 intermediate students throughout the year. In Horizonte's adult high school program more than 2,200 adults of all ages pursue basic literacy, high school diplomas and the GED. Approximately 2,600 persons study English in Horizonte's English language program throughout the year.
Salt Lake Community College is an accredited, student-focused, comprehensive community college meeting the diverse needs of the Salt Lake community. Home to more than 60,000 students each year, the College is Utah's leading provider of workforce development programs. SLCC is also the largest supplier of transfer students to Utah's four-year institutions and a perennial Top 10 college nationally for total associate degrees awarded. The College is the sole provider of applied technology courses in the Salt Lake area, with multiple locations, an eCampus, and nearly 1,000 continuing education sites located throughout the Salt Lake Valley. Personal attention from an excellent faculty is paramount at the College, which maintains an average class size of 20.