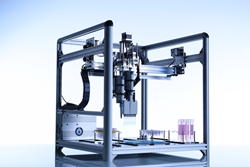 The launch of the Opentrons API is a key milestone towards our vision of robots running common protocols on every lab bench. - Wiil Canine, Chief Product Officer
Brooklyn, New York (PRWEB) November 16, 2016
On Nov 16, 2016, Opentrons Labworks Inc., a lab automation company and creator of the OT-One line of affordable pipetting robots, will open up its automation platform with a new Application Programming Interface (API). Scientists and software developers can now automate complex workflows with sharable protocols written in Python - an easy and intuitive programming language as easy to understand as English. The Opentrons API can also be used to connect our robots with a wide-range of other software tools and lab equipment like robotic magnetic platforms, microscopes, and bioreactors. Together, Opentrons hardware and software are enabling unprecedented ease of use, customization, and flexibility for biology lab automation.
Opentrons Co-Founder and Chief Product Officer Will Canine said, "The launch of the Opentrons API is a key milestone towards our vision of robots running common protocols on every lab bench. The API gives our vibrant open-science community the software tools it needs to create automated workflows that anyone with Opentrons can run in their own lab."
Artyom Astafurov, Opentrons' VP of Engineering, said, "We've designed the API to be an easy step into programming and automation for any bench scientist. Our API makes your code read like a protocol written in your lab notebook, but you can extend it using everything the Python ecosystem has to offer. With Python fast becoming the language of choice for many scientific computing applications, we are excited to be extending its use in the bio lab."
The early adopters of the Opentrons API include top academic institutions and start-ups on the cutting edge of technology. Even though today is just the beginning of the Python API, there are already many incredible applications being built on it:

Mayo Clinic / Lifengine Tech - gene editing and genotyping workflows and reagents
Stanford Proteomics Core - in-gel digest mass spectrometry sample prep
Harvard DFCI - magnetic bead peptide enrichment
Helix Works - first ever commercial DNA digital data storage solution
Girihlet - DNA extraction for deep sequencing
Opentrons is offering free training and support to any new labs who want to use the OT-One robots and Opentrons API. Purchase your OT-One robot today, starting at $3,000, at http://www.opentrons.com!